Outdoor signage with simplified installation and upkeep, plus an all-encompassing array of pre-assembled features OHF Series is conveniently and easily installed, designed and operated with a thin, all-in-one solution, which comes in a package which includes ingress protection, anti-reflection...
continua »
Codice Prodotto: OH85F
Disponibilità: Disponibile
Garanzia: 3 Anni
CARATTERISTICHE
Outdoor signage with simplified installation and upkeep, plus an all-encompassing array of pre-assembled features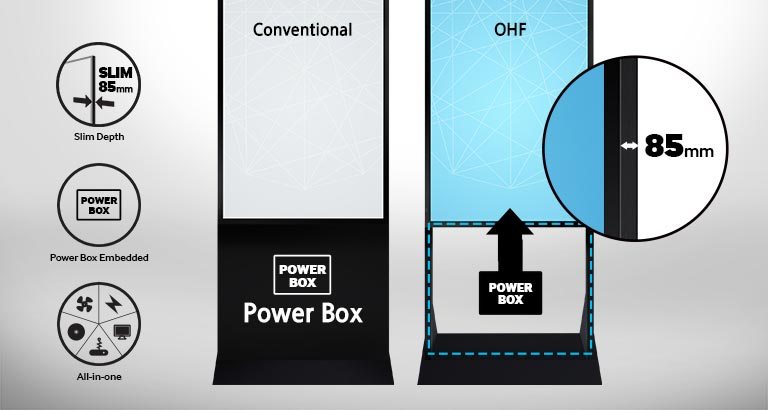 OHF Series is conveniently and easily installed, designed and operated with a thin, all-in-one solution, which comes in a package which includes ingress protection, anti-reflection technology, an embedded power box, vandalism protection and a highly efficient cooling system. In addition, the embedded power box helps to condense operational components to the point where an ultra slim depth of 85mm can be attained, while the functionality of embedded network hub allow for simple connection and easy installation.
Robust IK10* level of endurance against external impacts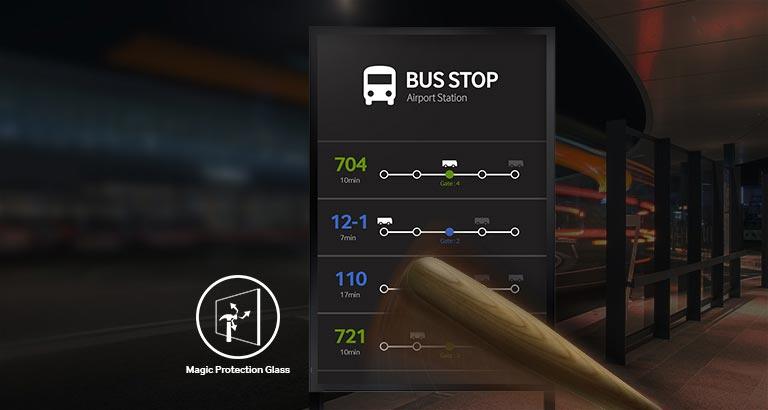 Advanced display protection is provided through the 5 mm (0.19 in.) tempered Magic Glass featuring durability that is IK10-certified (European strength test), further referencing its robust level of strength that can endure external impacts. In addition, a gap between the Magic Glass and the LCD panel prevents LCD breakage when the protection glass is broken.*IK rating refers to the degree of resistance against external impacts on a scale of 0 to 10, where 10 indicates the highest level of protection.* Dual Protection Glass can be applied for stronger resistance if required.
Possessing a self-cooling system with no need for filter or maintenance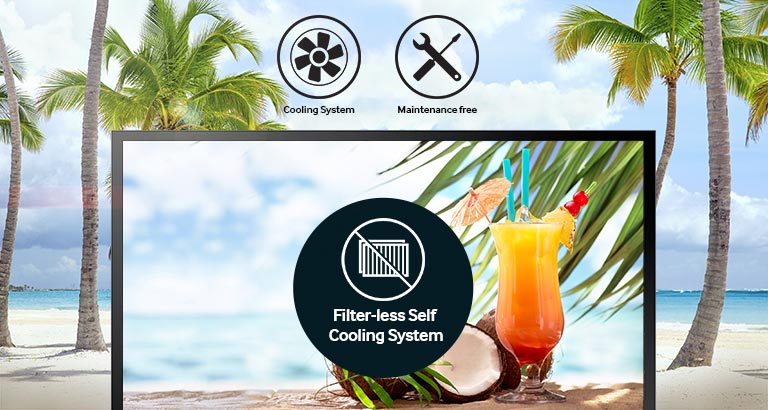 Samsung's OHF Series comes complete with an advanced cooling system with heat exchanger, supported by advanced thermal control functionality. This enhances the overall efficiency in terms of both management and cost through its filter-less system. The system revolutionizes outdoor signage design, abandoning the thick enclosures to accommodate a full display package.
Captivate audiences with excellent visibility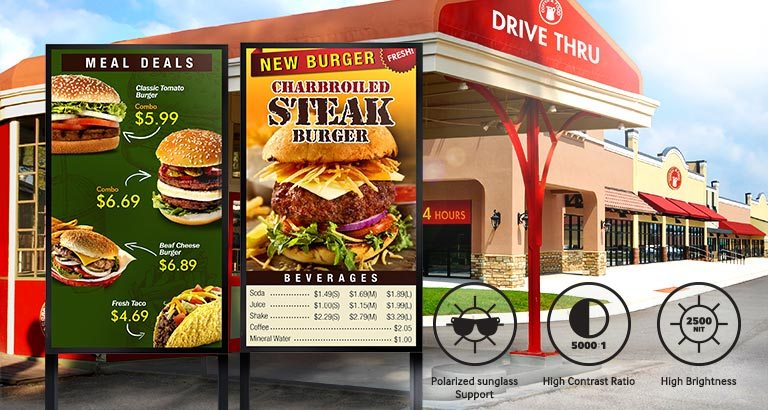 • High VisibilityOHF Series displays feature innovative Magic Glass, TUV Certified Image Quality and an Auto Brightness Sensor to optimize brightness in order to optimally convey messaging to virtually any viewer. These powerful displays also feature circular polarizing technology that eliminates display blindness caused by polarized sunglasses. OHF Series captivate viewers with superior messaging clarity delivered with high 2,500 nit brightness and 5,000:1 high contrast ratio.• Reflection PreventionGreater content visibility is achieved under a combination of high brightness, lower reflection and high contrast ratio. The Magic Glass of the OHF Series that is in front of the displays' LCD panels removes the protection glass reflection, making the displayed images richer and clearer under direct sunlight.
Operate reliably in virtually any environment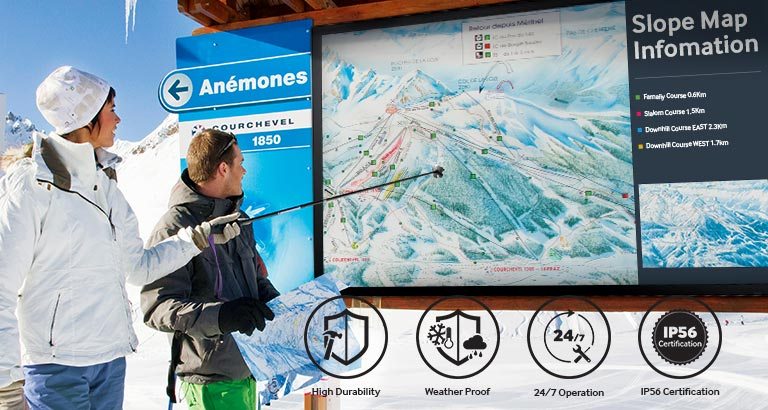 To deal with dust, moisture and other environmental variables that can damage your outdoor signage and impede operation, OHF Series ensure a high level of ingress defense with IP56 level protection that extends throughout the entire display.As heat is a major factor due to outdoor signage being exposed to sunlight, operation of OHF Series has been made possible in temperatures that range from -30°C (-22°F) to 50°C (122°F) through a self-cooling system, allowing for a level of durability that can sustain 24/7 operations while negating the need for additional air conditioning systems.
VESA-compliant for simplified mounting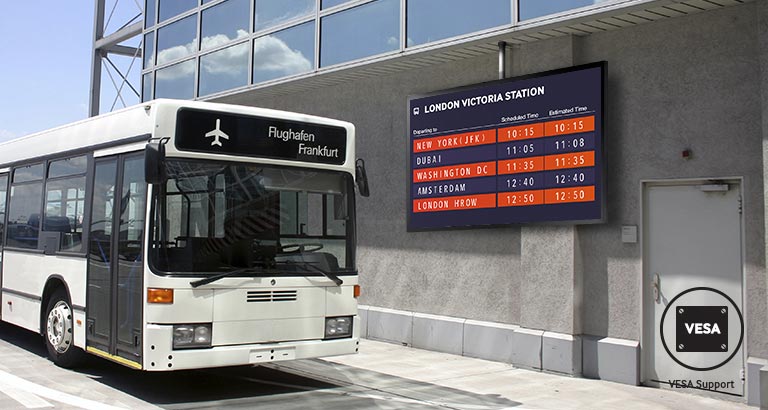 The OHF Series comes complete with additional brackets (optional), in order to accommodate Standard VESA usage. Due to being VESA-compliant, the OHF series gives you the power and flexibility to mount your display according to your needs and without having to purchase a specific brand or model of wall mount. (Only applicable to 46" and 55")
DominoDisplay vende prodotti Samsung che forniscono una soluzione integrata al problema della trasmissione di contenuti digitali sia in locale che in remoto.
I prodotti Samsung offrono, integrati nei monitor, un player chiamato "MagicInfo™" e una memoria interna che eliminano la necessità di acquistare e collegare ai monitor PC per la trasmissione dei contenuti digitali, rendendo anche meno costosa e complessa la realizzazione della comunicazione digitale
MagicInfo™ preinstallato sui monitor nella versione Lite, è un prodotto estremamente completo e di facile utilizzo che non richiede competenze specialistiche. E' sufficiente usare il telecomando incluso!
Di seguito puoi trovare un elenco delle funzionalità che MagicInfo™ offre per la trasmissione dei contenuti digitali:
Wi-Fi Direct, Screen Mirroring, DLNA: solo con Windows 8.1, processore IntelPro e scaricando l'applicazione Wireless Display dal sito www.intel.it
programmazione locale dei contenuti utilizzando la memoria interna
funzione "CLONA": potrai clonare su una chiave USB la programmazione che hai impostato su un monitor per trasferirla immediatamente anche agli altri monitor grazie alla funzionalità AutoPlay, senza bisogno di collegare i monitor alla rete aziendale (Nota: sulla chiave USB deve essere creata la cartella denominata "MagicInfoSlide")
trasmissione a schermo pieno dei contenuti
scelta tra 64 template (sia per trasmissione orizzontale che verticale) preinstallati per creare una comunicazione personalizzata
definizione della tempistica della campagna comunicativa e degli orari di accensione\spegnimento del monitor differenziata per fasce orarie e\o giorni
gestione combinata di più campagne comunicative
trasferimento dei contenuti sulla memoria interna del monitor (funzione antivandalica)
gestione dei videowall semplificata
possibilità di collegare e gestire i monitor da remoto collegandoli a una rete locale (vedi oltre)
gestione di tutte le funzionalità tramite telecomando incluso direttamente sul monitor
utenti profilati
trasmissione di template personalizzati caricati tramite chiave USB
ampia compatibilità con i formati video e audio, con il formato Flash, PDF e Microsoft Powerpoint


È possibile anche scaricare l'applicazione MagicInfo Express, su telefono (Android, IOS) o su computer, dai quali si può caricare contenuti multimediali o template personalizzati sui monitor. Questa applicazione funziona solo in locale e non da remoto.
Clicca qui per vedere tutte le soluzioni MagicInfo™ disponibili per i monitor Samsung SMART Signage.
SPECIFICHE
Display
Dimensione Diagonale
85"
Type
60Hz D-LED Local Dim. BLU
Risoluzione
3840*2160 (4K UHD)
Pixel Pitch(mm)
0.488mm(H) X 0.488mm(V)
Dimensioni display attivo (orizz. x vert.)
1872(H) x 1053(V)
Luminosità (tipica)
2,500 nit
Contrasto
3000:1
Angolo di visione (orizz./vert.)
178° / 178°
Tempo di risposta
8 ms
Numero di colori
10 bit - 1.07B
Gamma colori
72%
Dynamic C/R
100,000:1
H-Scanning Frequency
30~135kHz (DP), 30~90kHz (HDMI)
V-Scanning Frequency
30~75Hz (DP), 24~75Hz (HDMI)
Maximum Pixel Frequency
533.25MHz (DP), 297MHz (HDMI)
Connectivity
Input RGB
DP 1.2 (2) @UHD 60Hz
Input Video
HDMI 1.4 (2) @UHD 30Hz, HDBaseT
Input HDCP
HDCP 1.4
Input Audio
N/A
Input USB
USB 2.0 (1)
Output RGB
N/A
Output Video
HDMI 1.4 (2) @UHD 30Hz, HDBaseT
Output Audio
Stereo Mini Jack
Output Power Out
N/A
Output External Control
RS232C (In/Out), RJ45(In/Out), HDBaseT
Output External Sensor
N/A
Output Tuner
N/A
Power
Type
Internal
Power Supply
AC 100 - 240 V~ (+/- 10 %), 50/60 Hz
Power Consumption
Max[W/h]
1,600
Typical[W/h]
W/W(EU) 680 US/KOR/Etc. TBD ※ Etc: CHINA, TAIWAN, BRA, CIS
BTU(Max)
5,456
Sleep mode
less than 0.5W
Off mode
less than 0.5W
Mechanical Specification
Dimension (mm) Set
2004 x 1185 x 120
Dimension (mm) Package
2175 x 1383 x 495
Mechanical Specification
Weight (kg) Set
163 kg
Weight (kg) Package
211 kg
VESA Mount (mm)
N/A
Mounting Hole
1000 x 1118.4 (M8 x 8Hole)
Protection Glass
Yes (5T Tempered Glass)
Stand Type
N/A
Media Player Option Type
N/A
Bezel Width (mm)
62 / 62 / 62 / 62 mm
Operation
Recommended Usage Hours
24/7
Operating Temperature
-30.0 ℃ ~ 50.0 ℃
Humidity
10.0 % ~ 80.0 %
IP Certificate
IP56
Feature
Key Features
Slim High Brightness, IP56 Certified, Heat Exchanger
Special Features
IP56 Certified for Simple Enclosure Outdoor, Protection Glass(IK-10 Level, Anti Graffiti, Infrared Reduce), Polarized Sun Glasses Viewable in any direction, HD Base T for Long Distance Installalling, Portrait /Landscape Installation Support, Lamp Error Detection, Auto Brightness Control with Ambient Brightness Sensor, Temperature Sensor, RJ45 MDC, FHD 4-PBP, Auto Source Switching & Recovery, Clock Battery(80hrs Clock Keeping)
Internal Player
Processor
N/A
On-Chip Cache Memory
N/A
Clock Speed
N/A
Main Memory Interface
N/A
Graphics
N/A
Storage (FDM)
N/A
Multimedia
N/A
IO Ports
N/A
Operating System
N/A
Certification
Safety
CB (Europe) : IEC60950-1/EN60950-1 CCC (China) : GB4943.1-2011 PSB (Singapore) : PSB+IEC60950-1 NOM (Mexico) : NOM-001-SCFI-1993 IRAM (Argentina) : IRAM+IEC60950-1 SASO (Saudi Arabia) : SASO+IEC60950-1 BIS(India) : IEC60950-1 / IS13252 NOM(Mexico) : NOM-019-SCFI-1998 KC(Korea) : K 60950-1 EAC(Russia) : EAC+IEC60950-1 INMETRO(Brazil) : INMETRO+IEC60950-1 BSMI(Taiwan) : BSMI+IEC60950-1 RCM(Australia) : IEC60950-1/AS/NZS 60950-1 UL(USA) : cUL60950-1 CSA (Canada) : cUL TUV (Germany) : CE NEMKO (Norway) : CE
EMC
FCC (USA) Part 15, Subpart B Class A CE (Europe) : EN55022:2006+A1:2007 EN55024:1998+A1:2001+A2:2003 VCCI (Japan) : VCCI V-3 /2010.04 Class A KCC/EK (Korea) : KN22 / 24 BSMI (Taiwan) : CNS13438 (ITE EMI) Class A / CNS13439 (AV EMI) / CNS14409 (AV EMS) / CNS14972 (Digital) C-Tick (Australia) : AS/NZS CISPR22:2009 CCC(China) :GB9254-2008 GB17625.1-2012 GOST(Russia/CIS) : GOST R 51317 Series, GOST 22505-97 EN55022:2006+A1:2007 EN55024:1998+A1:2001+A2:2003
Optional