Accommodate Users who Place a Premium on Simplified Installation and Disassembly Samsung's UHF5 Series video walls are designed for optimized user assembly and disassembly. A reduction in thickness (by more than 50 percent) and weight (by more than 40 percent) makes the displays easier to transport...
continua »
Codice Prodotto: DDW013
Disponibilità: Disponibile
Garanzia: 3 Anni
CARATTERISTICHE
Accommodate Users who Place a Premium on Simplified Installation and Disassembly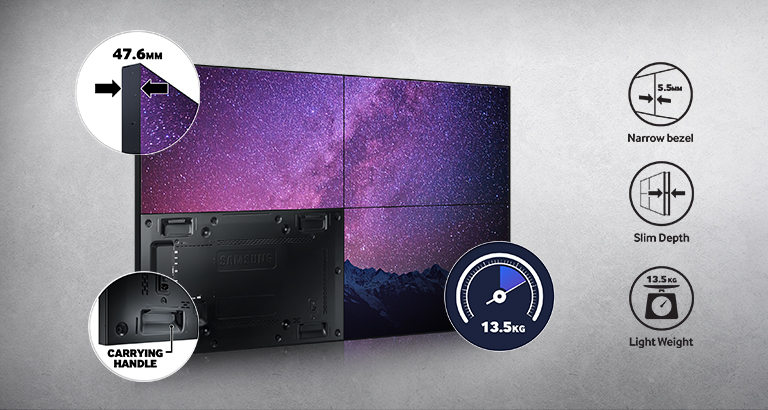 Samsung's UHF5 Series video walls are designed for optimized user assembly and disassembly. A reduction in thickness (by more than 50 percent) and weight (by more than 40 percent) makes the displays easier to transport and install. To further simplify the process, an optional wall mount ensures that the video wall remains stable and adherent to any surface. The alignment of the UHF5 Series displays (47.9mm) and wall mounts (39.9mm) accommodates Americans with Disabilities Act (ADA) regulations which mandate that video walls remain within four inches of a surface to minimize fall risks.
Realize the Ease of UHD Video Wall Implementation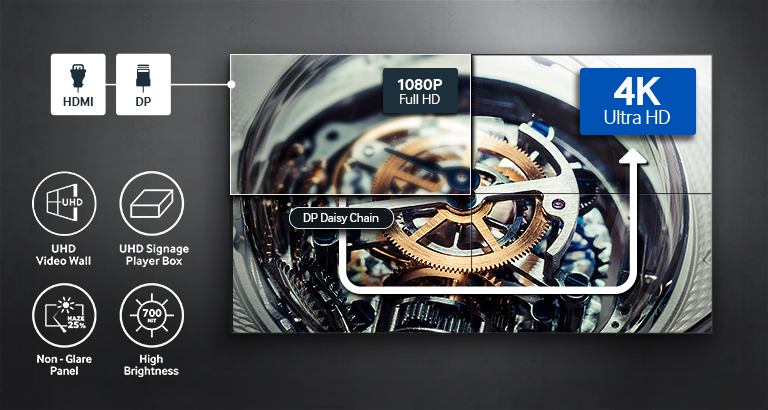 By condensing several essential video wall components into a unified platform, Samsung's UHF5 Series helps users achieve the coveted UHD content standard with less effort required. A compatible Signage Player Box (Tizen 2.4) delivers immersive, captivating content across video wall configurations as large as 5x5 in size. Through harmonious daisy-chaining, users can share seamless, crisp video content that extends across all screens without interruption. Furthermore, the Signage Player Box doubles as a media player backed by a powerful Quad Core CPU and featuring multi-source switching functionalities. Overall, this versatile composition prevents users from having to purchase additional equipment and represents a cost-efficient alternative.
Enable Enduring Video Wall Performance through Excellent Panel Quality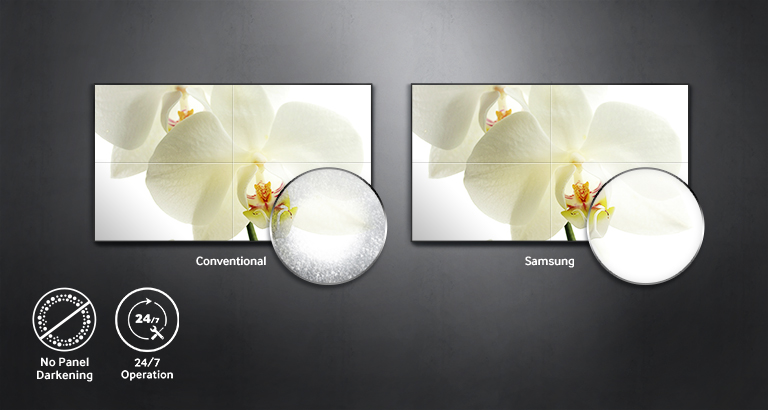 As users require continuous long-term video wall performance in a range of environments, display durability is essential for success. Samsung's UHF5 Series video walls overcome many common user challenges to ensure unwavering 24/7 performance. Through exhaustive testing, Samsung's video wall panels are reinforced to shield screens against panel darkening. Additionally, each video wall contains black, mura-free panels to prevent backlight non-uniformity and subsequent visual distraction. These features, coupled with the ongoing support of Samsung's dedicated customer service team, reduce maintenance for users while delivering images at superior quality.
Achieve Accurate Color Presentation through Samsung's Advanced Calibration Technology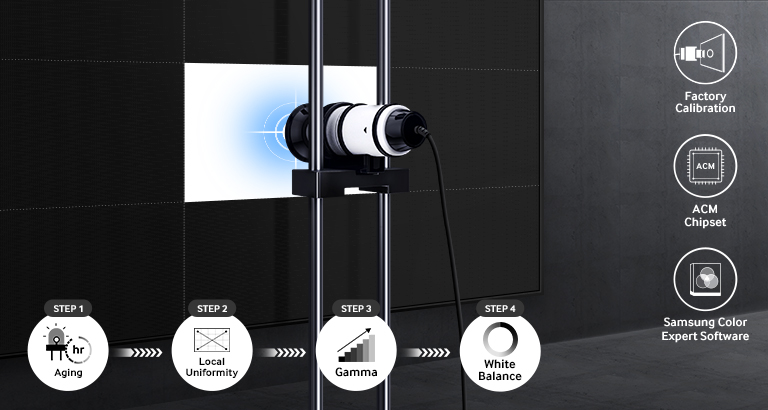 To provide a more refined out-of-the-box solution that can be implemented easily and quickly, Samsung's UHF5 Series displays undergo rigorous factory calibration. This detailed process uses precise sensors and the latest software to fine-tune display presentation beyond what customers typically expect. The ensuing result enhances white balance for the delivery of more impactful, unified UHD messages. For customers seeking even more sophisticated calibration, the UHF5 Series comes complete with an Advanced Color Management (ACM) Chipset and Samsung Color Expert Software that can optimze display settings.
Simplified Installation due to Special Wall Mount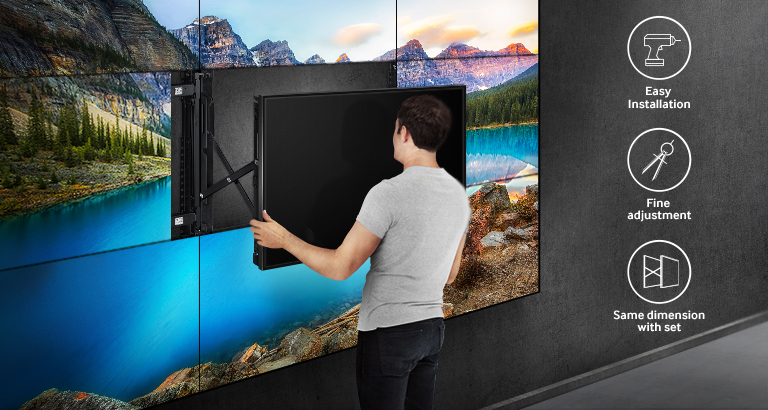 UHF5 Series users can bypass any perceived installation and layout challenges through the use of Samsung's special wall mounts. These optional wall mounts accommodate a variety of video wall sizes and configurations, creating new opportunities for creative and captivating display arrangements. By reducing the time and labor required to set up and break down video walls, the compatible wall mounts improve overall efficiency while allowing users to focus on other critical business matters.
Deliver Compelling Content at Reduced Energy Expense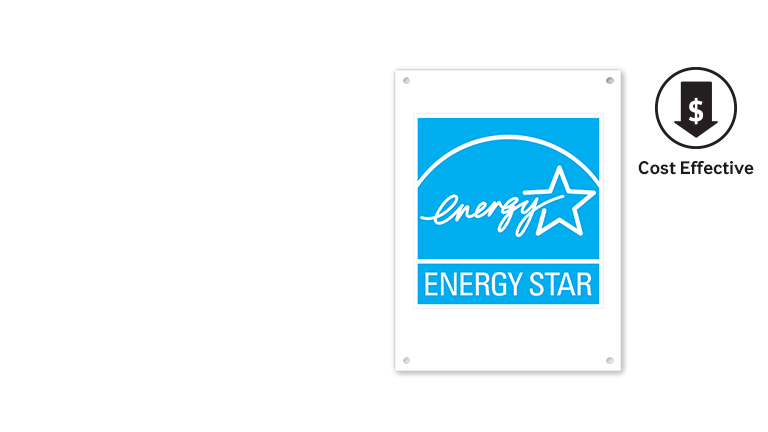 To further validate their efficient performance, Samsung's UHF5 Series video walls have achieved Energy Star 7.0 certification. This achievement signifies an environmentally-friendly composition and content delivery procedures requiring minimal resources or emissions. Beyond representing a sustainable alternative, Samsung's certified UHF5 Series displays significantly reduce energy expenses – and related maintenance - for users
DominoDisplay vende prodotti Samsung che forniscono una soluzione integrata al problema della trasmissione di contenuti digitali sia in locale che in remoto.
I prodotti Samsung offrono, integrati nei monitor, un player chiamato "MagicInfo™" e una memoria interna che eliminano la necessità di acquistare e collegare ai monitor PC per la trasmissione dei contenuti digitali, rendendo anche meno costosa e complessa la realizzazione della comunicazione digitale
MagicInfo™ preinstallato sui monitor nella versione Lite, è un prodotto estremamente completo e di facile utilizzo che non richiede competenze specialistiche. E' sufficiente usare il telecomando incluso!
Di seguito puoi trovare un elenco delle funzionalità che MagicInfo™ offre per la trasmissione dei contenuti digitali:
Wi-Fi Direct, Screen Mirroring, DLNA: solo con Windows 8.1, processore IntelPro e scaricando l'applicazione Wireless Display dal sito www.intel.it
programmazione locale dei contenuti utilizzando la memoria interna
funzione "CLONA": potrai clonare su una chiave USB la programmazione che hai impostato su un monitor per trasferirla immediatamente anche agli altri monitor grazie alla funzionalità AutoPlay, senza bisogno di collegare i monitor alla rete aziendale (Nota: sulla chiave USB deve essere creata la cartella denominata "MagicInfoSlide")
trasmissione a schermo pieno dei contenuti
scelta tra 64 template (sia per trasmissione orizzontale che verticale) preinstallati per creare una comunicazione personalizzata
definizione della tempistica della campagna comunicativa e degli orari di accensione\spegnimento del monitor differenziata per fasce orarie e\o giorni
gestione combinata di più campagne comunicative
trasferimento dei contenuti sulla memoria interna del monitor (funzione antivandalica)
gestione dei videowall semplificata
possibilità di collegare e gestire i monitor da remoto collegandoli a una rete locale (vedi oltre)
gestione di tutte le funzionalità tramite telecomando incluso direttamente sul monitor
utenti profilati
trasmissione di template personalizzati caricati tramite chiave USB
ampia compatibilità con i formati video e audio, con il formato Flash, PDF e Microsoft Powerpoint


È possibile anche scaricare l'applicazione MagicInfo Express, su telefono (Android, IOS) o su computer, dai quali si può caricare contenuti multimediali o template personalizzati sui monitor. Questa applicazione funziona solo in locale e non da remoto.
Clicca qui per vedere tutte le soluzioni MagicInfo™ disponibili per i monitor Samsung SMART Signage.
SPECIFICHE
Display
Dimensione Diagonale
46"
Tipo pannello
D-LED DID
Risoluzione
1920 x 1080
Passo pixel (orizz. x vert.)
0,53mm(orizz.) x 0,53mm(vert.)
Dimensioni display attivo (orizz. x vert.)
1018,08 x 572,67 mm
Contrasto
4000:1
Angolo di visione (orizz./vert.)
178° / 178°
Tempo di risposta
8 ms
Numero di colori
8 bit - 16,7 M
Gamma colori
72%
Frequenza H-Scanning
30kHz ~ 81kHz
Frequenza Pixel Massima
148.5 MHz
Frequenza V-Scanning
48 ~ 75HZ
Luminosità
Max 700 cd/m2
Rapporto di contrasto dinamico
MEGA DCR
Connettività
Ingresso Video
HDMI 2.0 (2)
Ingresso RGB
DVI-D, Display Port 1.2
Ingresso audio
Stereo Mini Jack

Ingresso USB
Only F/W upgrade
Uscita video
N/D

Uscita RGB
DP1.2 (Loop-out)

Uscita audio
Stereo Mini Jack

Uscita Power Out
N/A
External Control
RS232C(in/out), RJ45
External Sensor
Detachable type (IR)

Tuner
N/A


Alimentazione
Alimentazione elettrica
AC 100 - 240 V~ (+/- 10 %), 50/60 Hz
Consumo energetico (Sleep Mode)
meno di 0,5W
Consumo energetico (spento)
meno di 0,5 W
Consumo energetico (acceso)
Max:132W, Tipico:98W, BTU(Max):450W
Dimensioni
Dimensioni (LxAxP)
1023,8 x 578,4 x 47,9 mm
Dimensioni Totali con imballaggio (LxAxP)
1171 x 734 x 277 mm
Peso
Peso dell'unità
13,5 kg
Peso Totale con imballaggio
19,5 kg
Specifiche Meccaniche
VESA Mount
400 x 400mm
Media Player Option Type
N/A
Condizioni di funzionamento
Temperatura
0 ℃ ~ 40 ℃
Umidità
10~80 (non condensante)
Recommended Usage Hours
24/7
Caratteristiche generali
Speciale
ACM Support(Advanced Color Management), Auto Source Switching & Recovery, Haze 11%, Temperature Sensor, RS232C/RJ45 MDC,Plug and Play (DDC2B), Video Wall(15x15(OSD)), Video Wall Daisy Chain(10x10), Pivot Display, Image Rotation, Button Lock, DP 1.2 Digital Daisy Chain(Supporting UHD Resolution, HDCP support), Smart F/W update, Clock Battery(80hrs Clock Keeping)
Caratteristiche Opzionali
Attacco
WMN-46VD
Media Player
Media Player
SBB, Signage player box
Certificazione e conformità
EMC
FCC (USA) FCC Part 15, Subpart B class A CE (Europe) EN55022, EN55024 VCCI (Japan) V-3 (CISPR22) KCC (Korea) :KN22, KN24 BSMI (Taiwan) : CNS13438 (CISPR22) C-Tick (Australia) : AS/NZS3548 (CISPR22) CCC(China) :GB9254-2008, GB17625.1-2012
Sicurezza
UL (USA) : UL 60950-1 CSA (Canada) : CSA C22.2 No. 60950-1 TUV (Germany) : EN60950-1 NEMKO (Norway) : EN60950-1 KC (Korea) : K60950-1 CCC (China) : GB4943.1-2011 PSB (Singapore) : IEC60950-1 GOST (Russia) : IEC60950-1, EN55022 SIQ (Slovenia) : IEC60950-1, EN55022 PCBC (Poland) : IEC60590-1, EN55022 NOM (Mexico) : NOM-019-SCFI-1993 IRAM (Argentina) :IEC60950-1 SASO (Saudi Arabia) : IEC60950-1
Accessori
Incluso
Quick Setup Guide, Warranty Card, DP cable, stereo to DB9 cable, Power Cord, Remote Controller, Batteries
Software Palinsesto
Vai alla pagina
Scheda tecnica
Visualizza
Disegno Tecnico
Visualizza
Optional