Deliver visual impact through a Distraction-Free Display Samsung's new video wall features an extreme narrow-bezel (1.7mm.) that produces a near-seamless picture across multiple screens without interruption, generating opportunities to captivate customers. Amplify Image Clarity in any...
continua »
Codice Prodotto: DDW044
Disponibilità: Disponibile
Garanzia: 3 Anni
€

27.086,00

+IVA

Oppure da

€ 901,15

+iva per

36 mesi

con
CARATTERISTICHE
Deliver visual impact through a Distraction-Free Display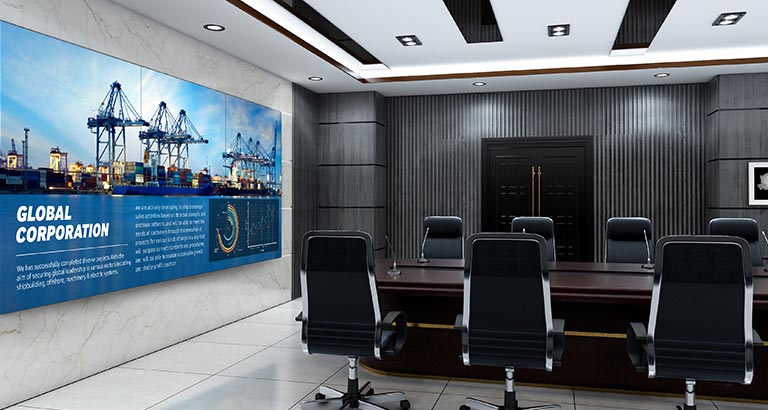 Samsung's new video wall features an extreme narrow-bezel (1.7mm.) that produces a near-seamless picture across multiple screens without interruption, generating opportunities to captivate customers.
Amplify Image Clarity in any Environment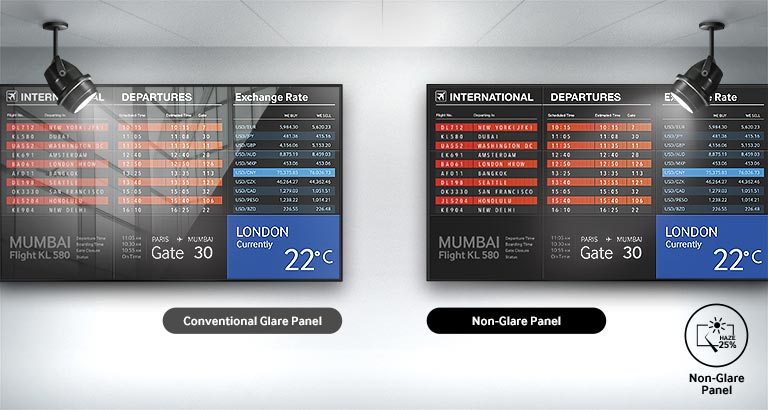 The displays' non-glare panel optimizes content presentation even under ambient lighting. This panel evenly distributes light throughout the screen, eliminating glare while maintaining content vibrancy and accuracy.
Extend Content Presentation Capabilities without the Expense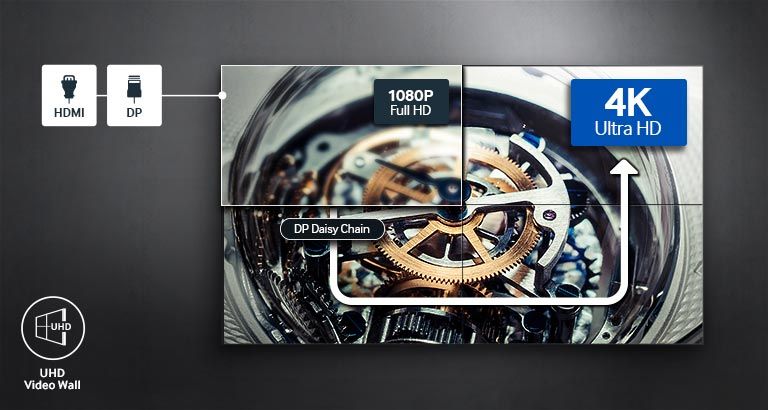 Users can configure the displays into daisy chains as large as 5x5 without requiring expensive external graphic cards or UHD splitters. Samsung's displays instead use Display Port (DP) 1.2 and HDMI ports to support advanced video interfaces and elevate content with resolution as high as 4K.
Share Accurate and Uniform Promotional Content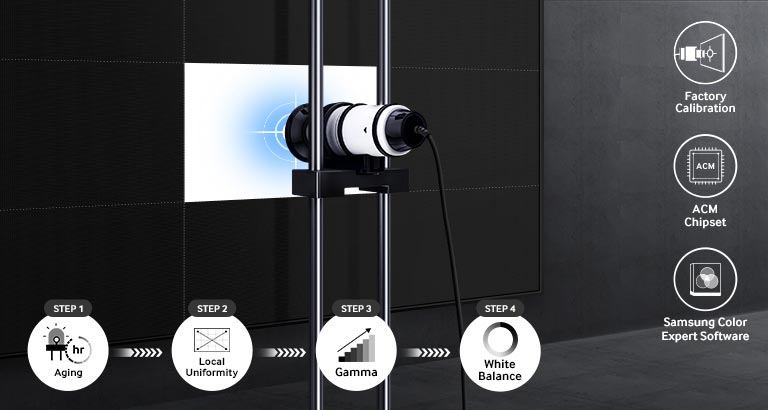 Thanks to rigorous pre-distribution calibration, the video wall users can enjoy uniform brightness and color right out of the box. This proactive calibration process increases the display's contrast ratio while minimizing the impact of screen darkening and light leakage, producing compelling content at nearly 90 percent local uniformity accuracy.
Enjoy Continuous, Uninterrupted Performance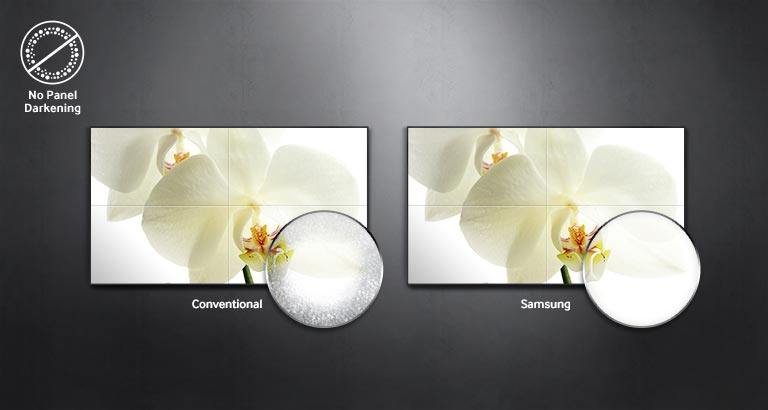 Samsung's extreme narrow bezel video walls are engineered for long-term performance, eliminating maintenance expenses for users. The display features durable panels that offset backlight discrepancies while simultaneously protecting the display against heat and dust exposure.
Vivid and Reliable Content Delivery for business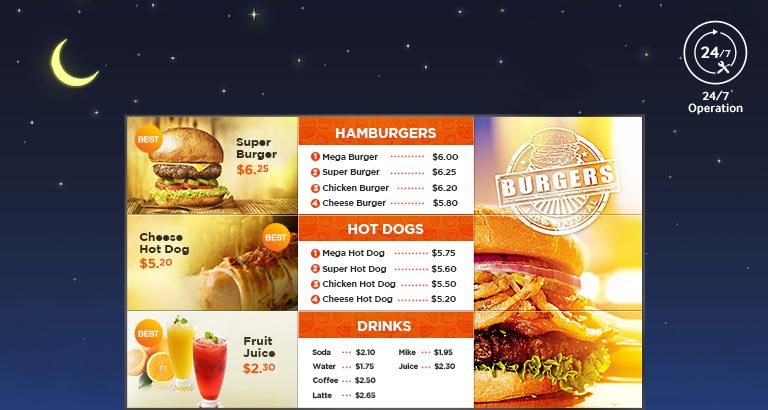 Designed to maintain performance in varying indoor environment conditions, Samsung UMH-E video wall produces an engaging viewing experience. The video wall's elevated contrast ratios (46-inch: 3500:1 and 55-inch: 4000:1) and brightness of 500 nit produce superior picture quality and a vivid color presentation.
All-in-One Box delivers cost-efficient, yet robust usability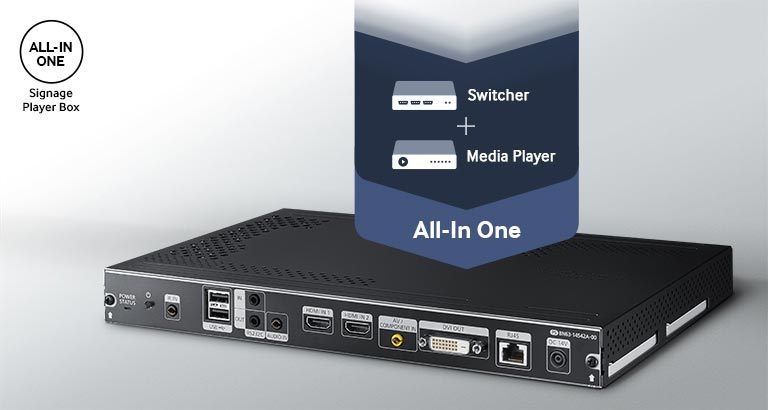 Backed by a powerful Quad Core CPU, the Signage Player Box effectively allows for multi-source switching and a media player to co-exist in a single box. Built to leverage the power of the embedded Samsung SMART Signage Platform (SSSP), the versatile box transforms standard video walls using its Quad Core CPU for faster information processing and easy-to-use content management performance with MagicInfo solution.
Highly configurable Wall Mounts adaptive to your desired layout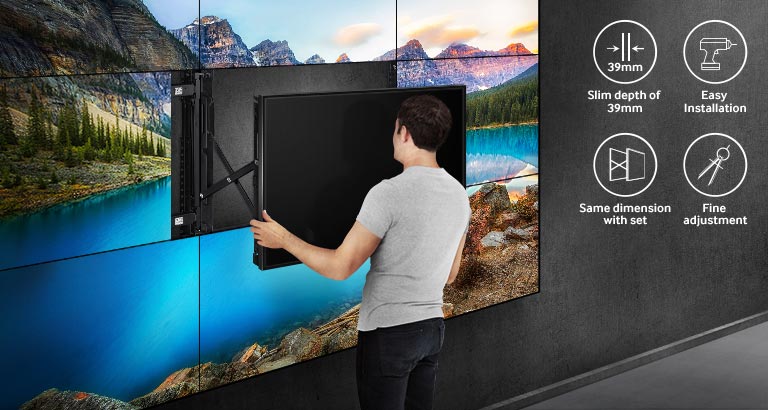 Special Wall Mounts ensure easy installation of video walls through minimal use of installation steps. The wall mount takes up minimal space and is sized to the dimensions of the video wall, where users can install the mount first and fit into the video wall. This user-friendly design eliminates the tedious efforts required to measure and adjust the wall mount, allowing you to conceive ideal layouts through effortless alignment between the wall mount size and video display size.
DominoDisplay vende prodotti Samsung che forniscono una soluzione integrata al problema della trasmissione di contenuti digitali sia in locale che in remoto.
I prodotti Samsung offrono, integrati nei monitor, un player chiamato "MagicInfo™" e una memoria interna che eliminano la necessità di acquistare e collegare ai monitor PC per la trasmissione dei contenuti digitali, rendendo anche meno costosa e complessa la realizzazione della comunicazione digitale
MagicInfo™ preinstallato sui monitor nella versione Lite, è un prodotto estremamente completo e di facile utilizzo che non richiede competenze specialistiche. E' sufficiente usare il telecomando incluso!
Di seguito puoi trovare un elenco delle funzionalità che MagicInfo™ offre per la trasmissione dei contenuti digitali:
Wi-Fi Direct, Screen Mirroring, DLNA: solo con Windows 8.1, processore IntelPro e scaricando l'applicazione Wireless Display dal sito www.intel.it
programmazione locale dei contenuti utilizzando la memoria interna
funzione "CLONA": potrai clonare su una chiave USB la programmazione che hai impostato su un monitor per trasferirla immediatamente anche agli altri monitor grazie alla funzionalità AutoPlay, senza bisogno di collegare i monitor alla rete aziendale (Nota: sulla chiave USB deve essere creata la cartella denominata "MagicInfoSlide")
trasmissione a schermo pieno dei contenuti
scelta tra 64 template (sia per trasmissione orizzontale che verticale) preinstallati per creare una comunicazione personalizzata
definizione della tempistica della campagna comunicativa e degli orari di accensione\spegnimento del monitor differenziata per fasce orarie e\o giorni
gestione combinata di più campagne comunicative
trasferimento dei contenuti sulla memoria interna del monitor (funzione antivandalica)
gestione dei videowall semplificata
possibilità di collegare e gestire i monitor da remoto collegandoli a una rete locale (vedi oltre)
gestione di tutte le funzionalità tramite telecomando incluso direttamente sul monitor
utenti profilati
trasmissione di template personalizzati caricati tramite chiave USB
ampia compatibilità con i formati video e audio, con il formato Flash, PDF e Microsoft Powerpoint


È possibile anche scaricare l'applicazione MagicInfo Express, su telefono (Android, IOS) o su computer, dai quali si può caricare contenuti multimediali o template personalizzati sui monitor. Questa applicazione funziona solo in locale e non da remoto.
Clicca qui per vedere tutte le soluzioni MagicInfo™ disponibili per i monitor Samsung SMART Signage.
SPECIFICHE
Videowall
Tipo schermo
9 monitor x 55" Samsung D-LED DID stand alone h24
Ingombro totale
363,45 x 204,69 x 9,6 cm
Peso totale
189 kg
Luminosità \ candelaggio
max 500 CD\m2
Risoluzione
Full HD (1920x1080) 16:9
Consegnato installato
NO
Player integrato
NO
SBB (modulo pc)
opzionale
Touchscreen
NO
Scheda tecnica
Visualizza
Disegno Tecnico
Optional