Time to upscale your display Samsung's QHR series displays feature best-in-class UHD resolution with unmatched 700 nit brightness, ideal for locations requiring high visibility. The displays also feature intelligent UHD upscaling for stunning picture quality, all in a slim design. Incredible...
continua »
Codice Prodotto: QH75R
Disponibilità: Su Ordinazione
Garanzia: 3 Anni
€

3.956,46

IVA INCLUSA

(€3.243,00

+IVA

)

Oppure da

€ 108.67

+iva per

36 mesi

con
Caratteristiche
Time to upscale your display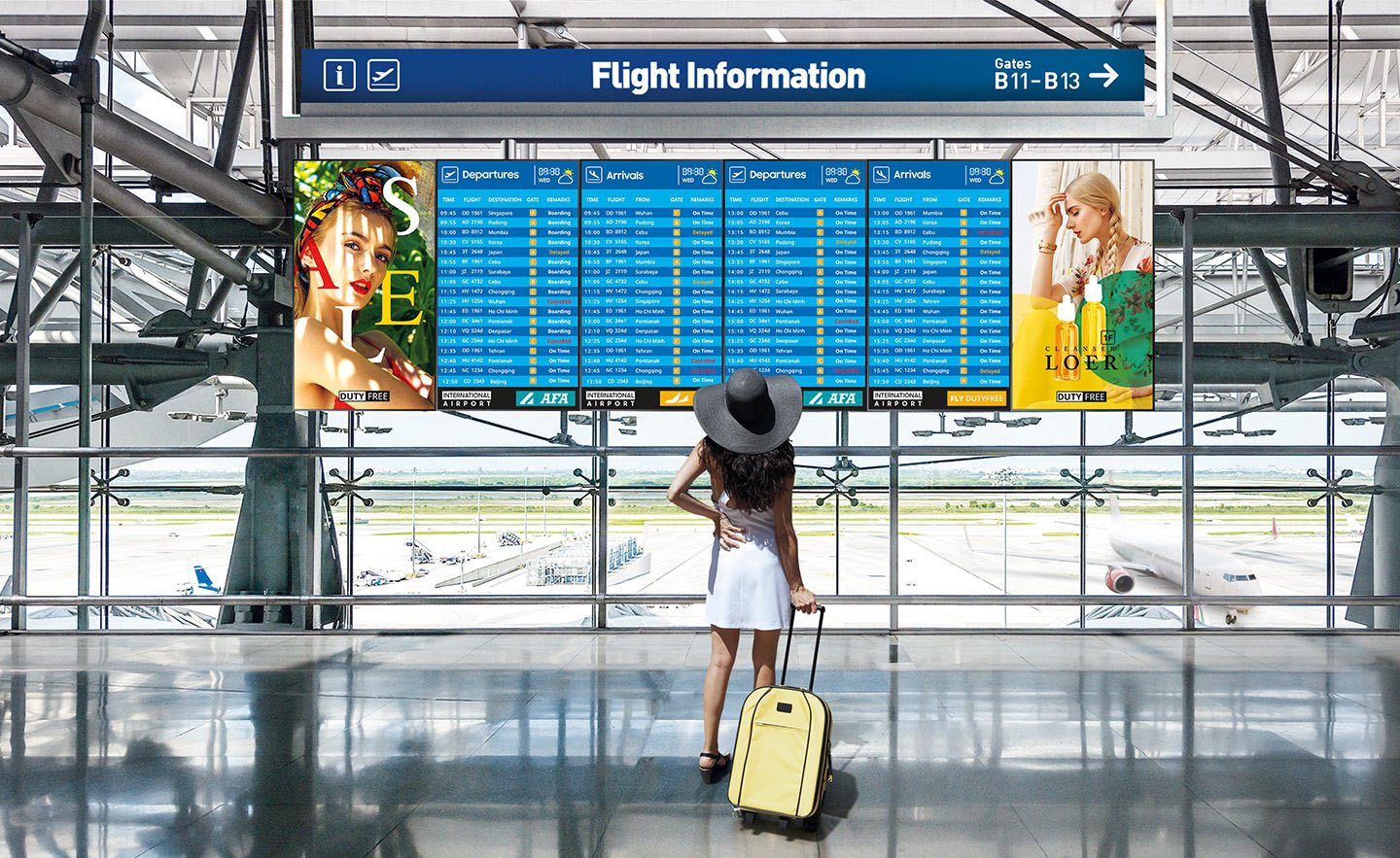 Samsung's QHR series displays feature best-in-class UHD resolution with unmatched 700 nit brightness, ideal for locations requiring high visibility. The displays also feature intelligent UHD upscaling for stunning picture quality, all in a slim design.
Incredible 4K picture quality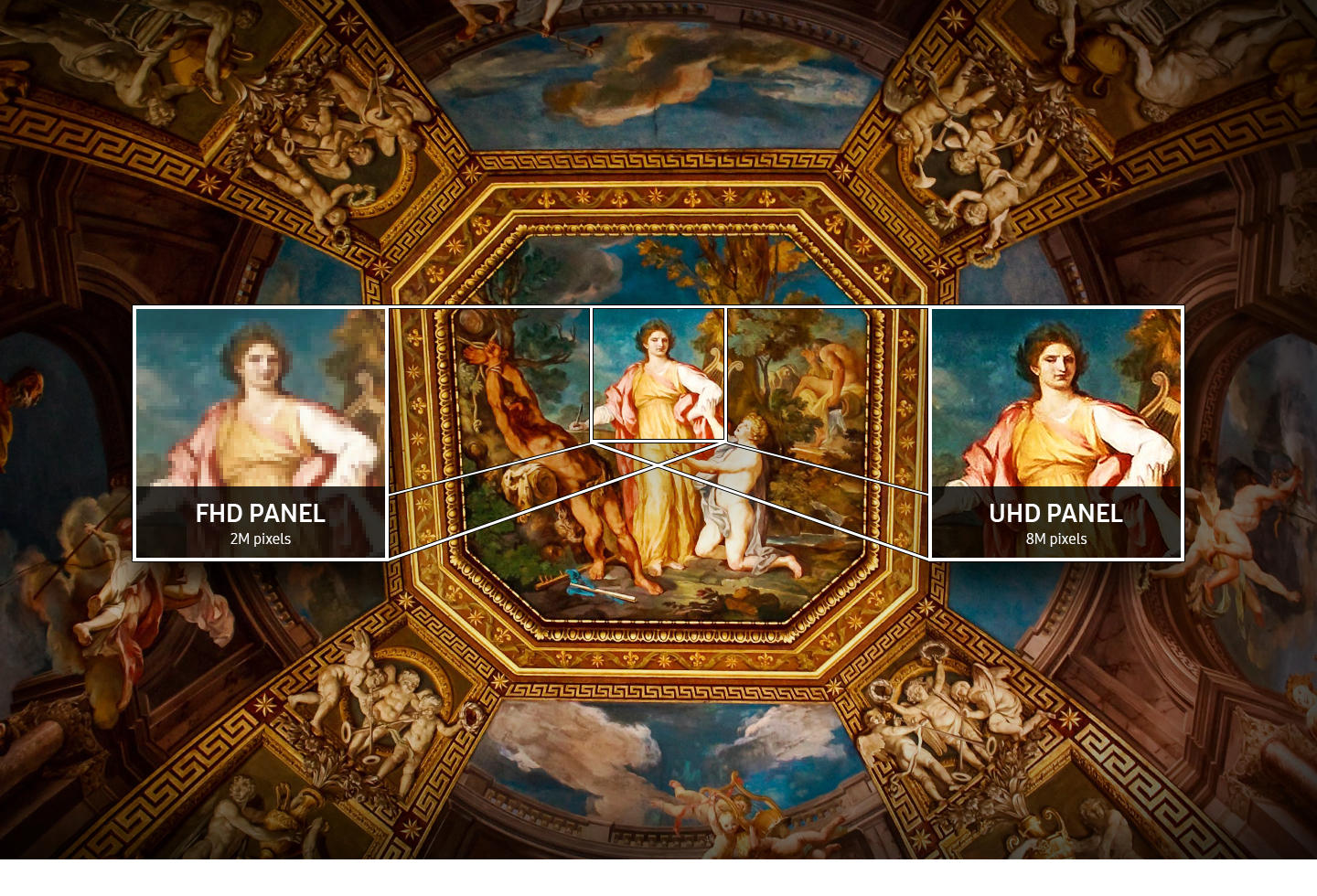 Samsung's new QHR series provides ultra high-definition 4K resolution, creating lifelike images with sharper picture quality than ever before.
Intelligent UHD upscaling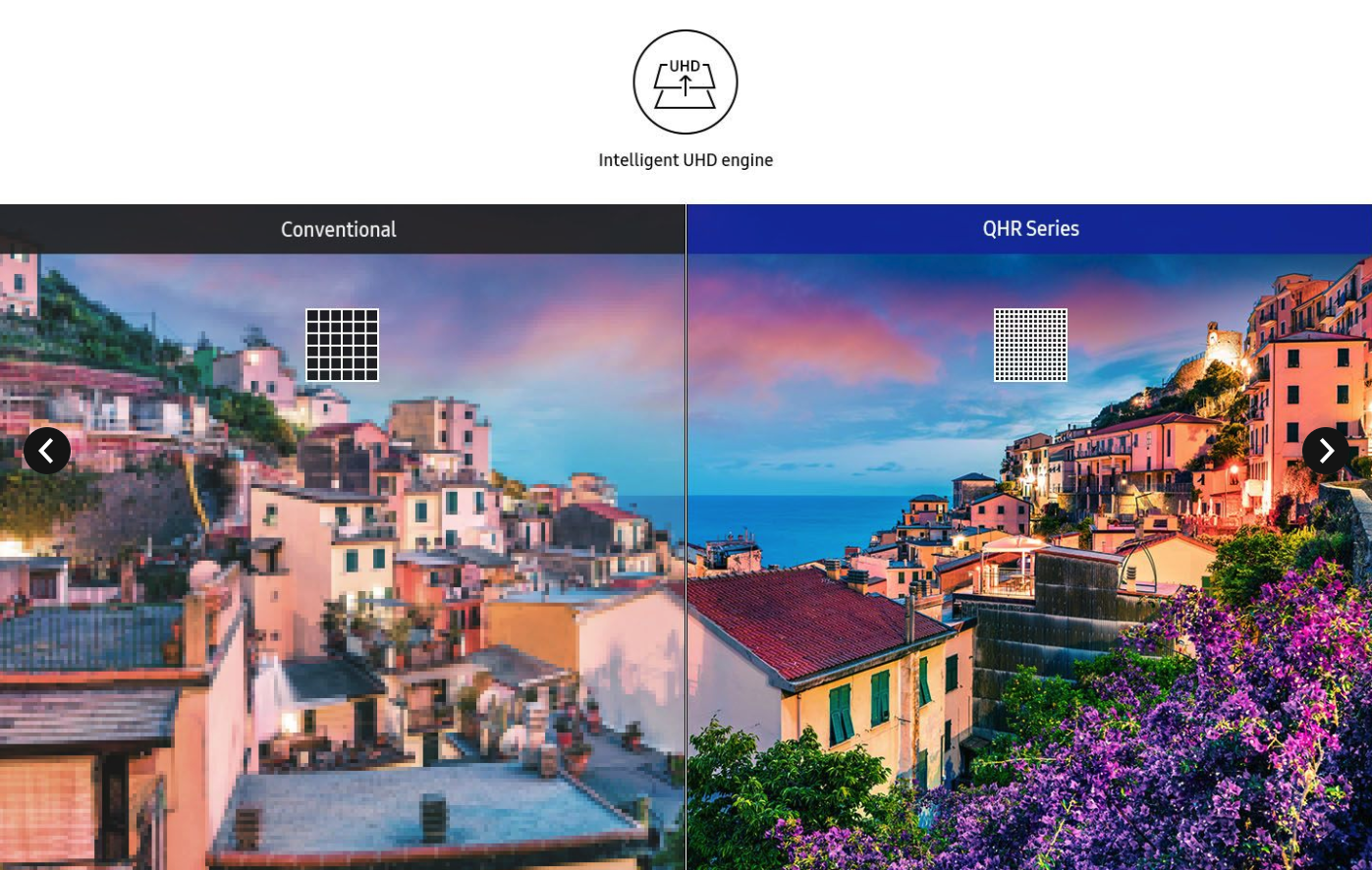 Samsung's cutting-edge intelligent UHD upscaling technology performs edge restoration and noise reduction to deliver perfect UHD picture quality even with lower resolution content. This "future-proof" solution ensures best-in-class picture quality regardless of the original content resolution.
Dynamic Crystal Color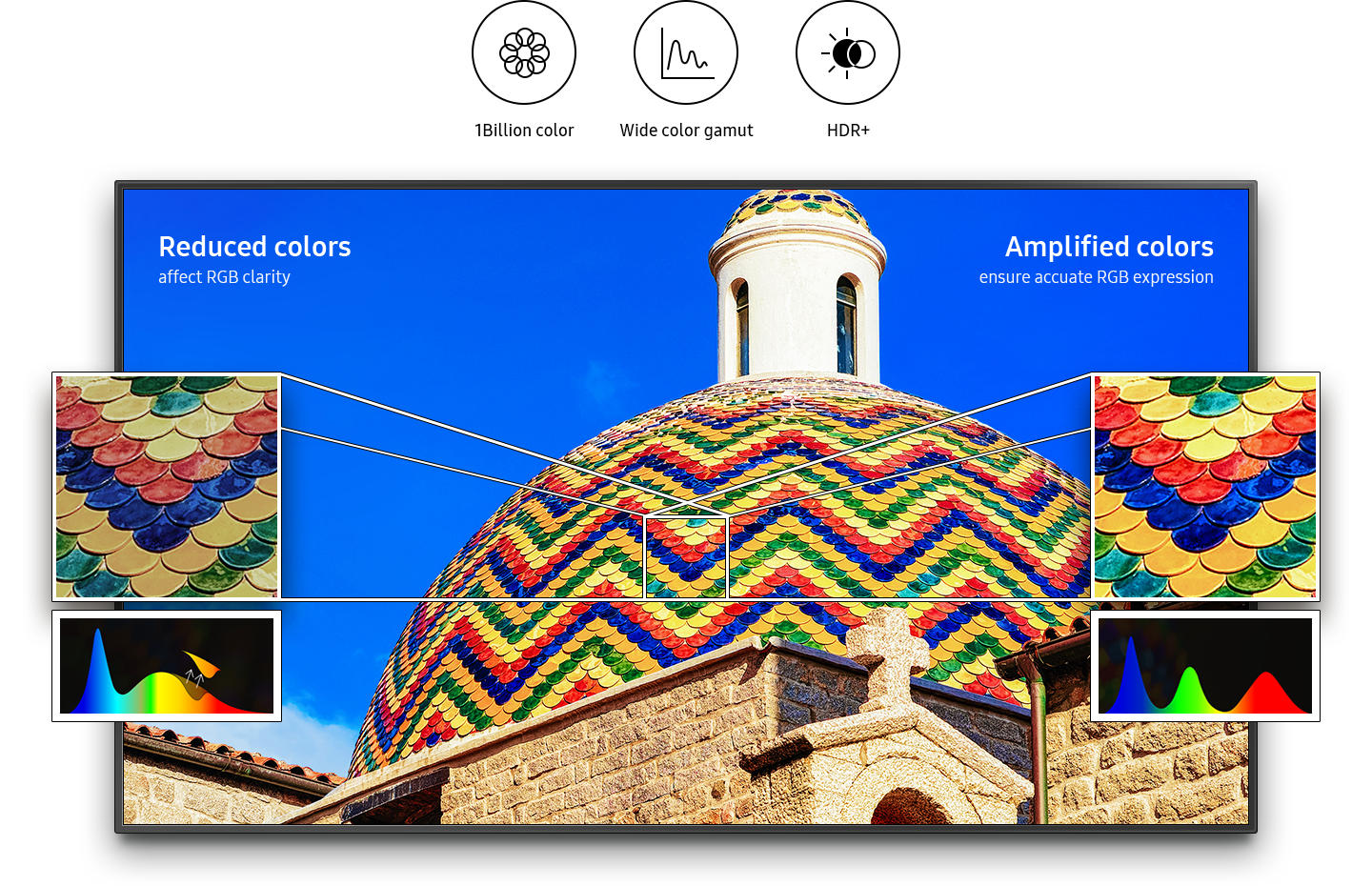 High visibility with eye-catching brightness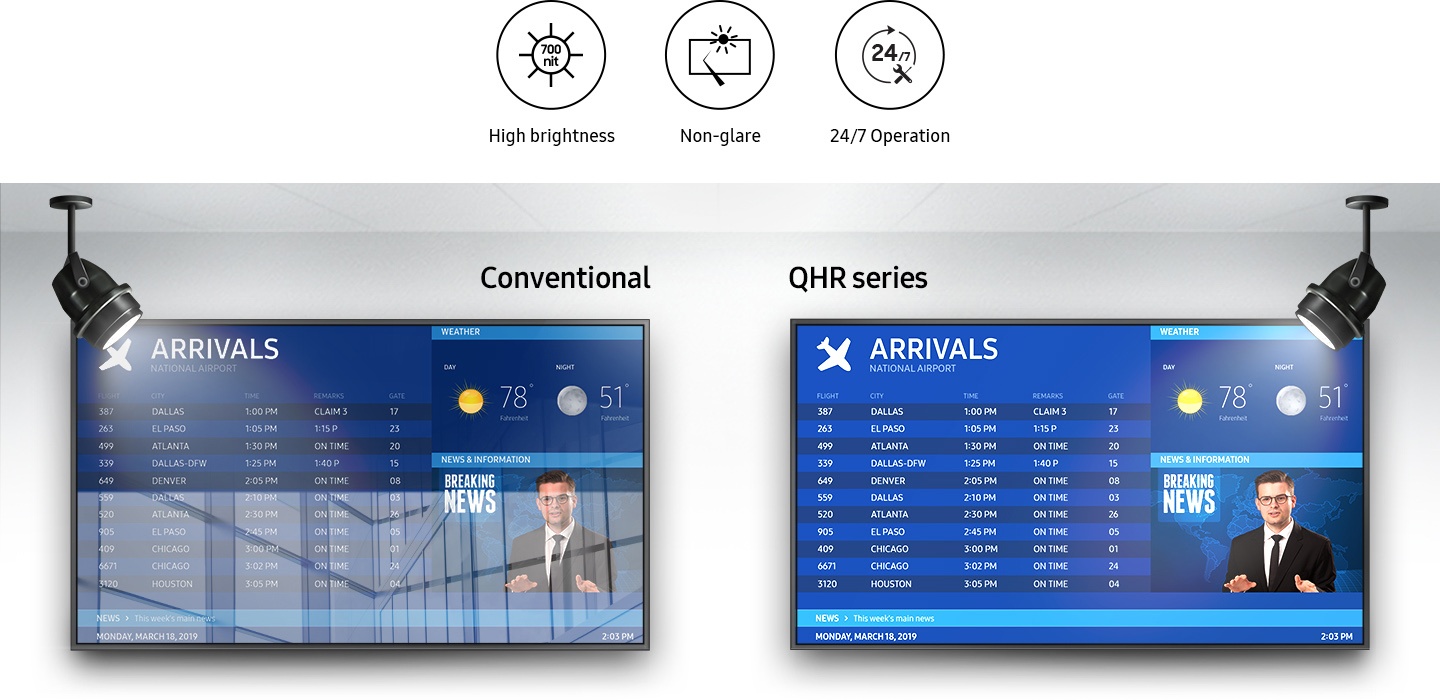 Samsung's QHR series features brilliant image presentation with an impressive 700 nit brightness allowing businesses to deliver clear information 24/7. The display's non-glare panels provide better visibility regardless of ambient light, ensuring critical information is always visible.
Slim and symmetrical design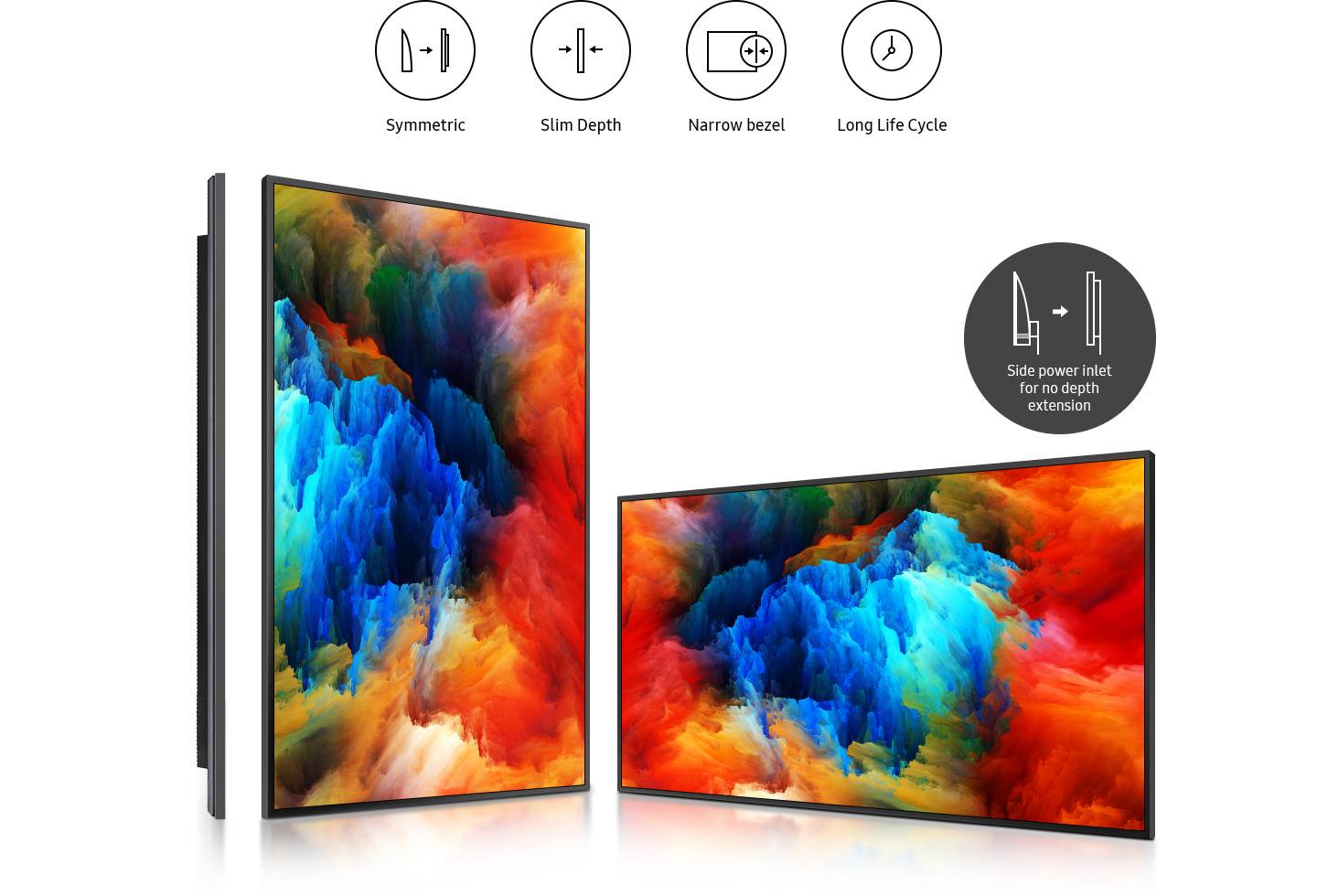 The QHR series features an all-new symmetric design simplifying wall mounting and ensuring installation is seamless. The flat back and slim depth will ensure a display that will stand the test of time.
Clean cable management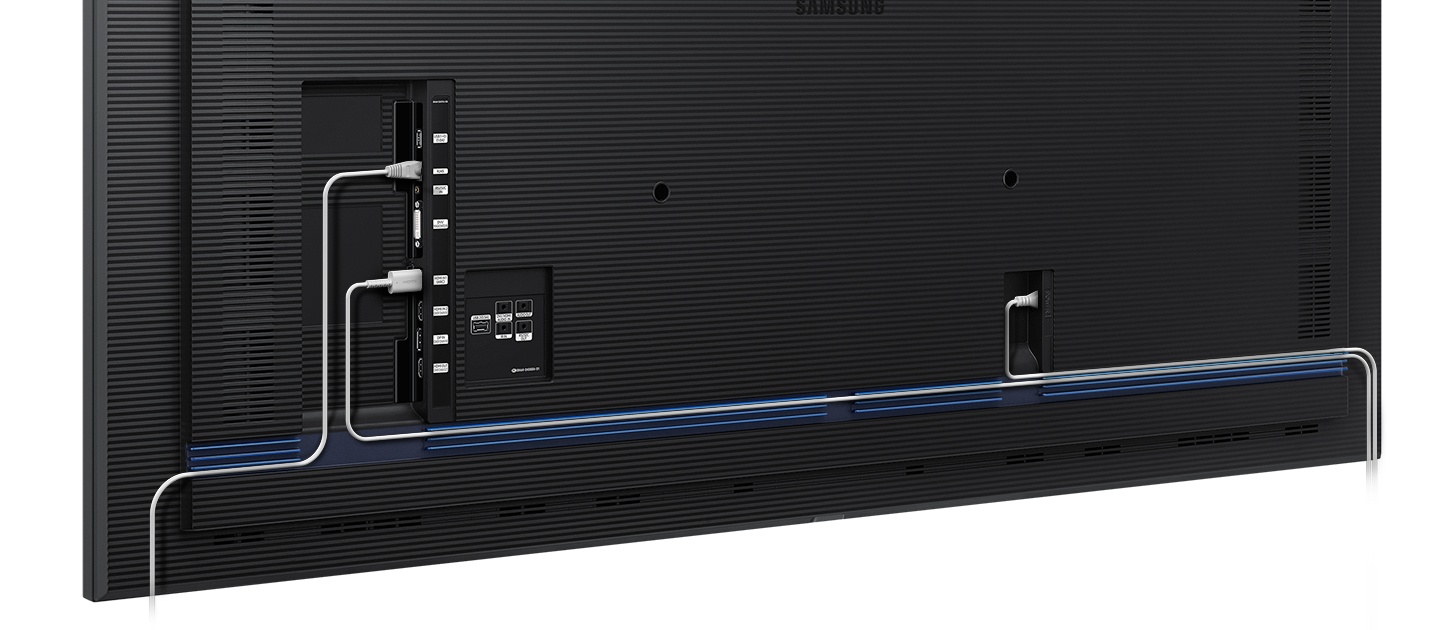 With QHR's new cable guide feature, retailers are able to tuck away messy cables from view. This allows for a clean and visually-appealing shopping experience for customers, even when the back of the display is visible.
Powerful, all-in-one solution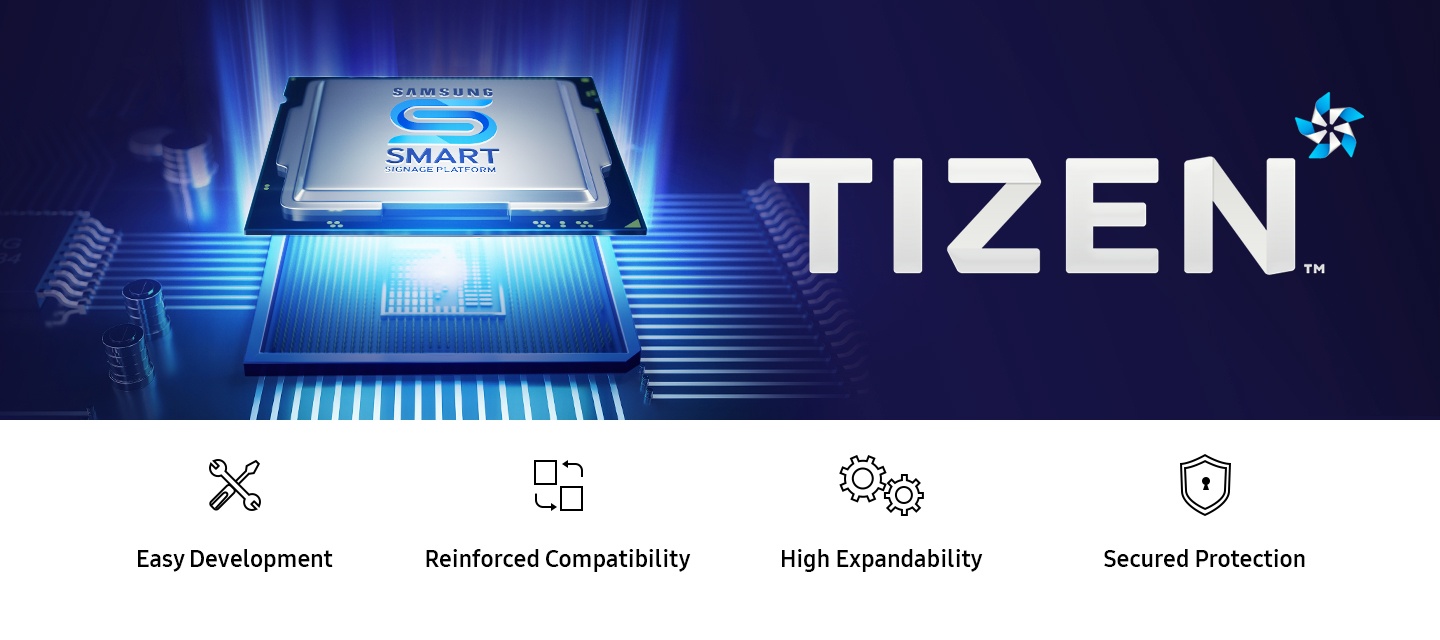 SSSP is an all-in-one solution that simplifies installation and maintenance. With Tizen 4.0, businesses can enjoy easy development, reinforced capability with multiple web formats and standards and secured protection.
Samsung Workspace secured by Knox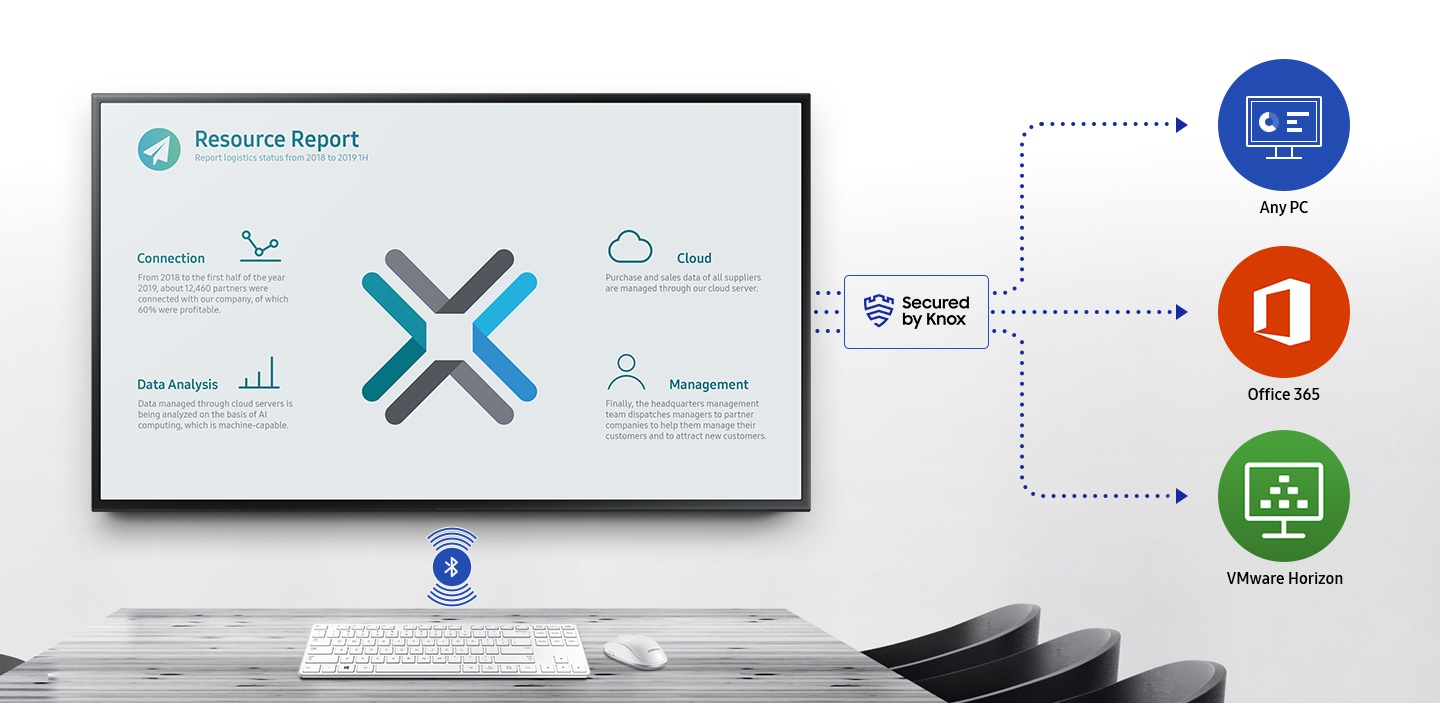 With security provided by Knox, the displays feature Samsung Workspace which supports wireless cloud service access and control of a PC without needing a physical connection. Samsung Workspace simplifies meeting spaces while also improving security.
WiFi and Bluetooth built-in

Built-in WiFi and Bluetooth allow for more personalized and interactive services as well as simplifying how businesses showcase content. Whether it's to make networking simpler or enabling interactive beacon technology in-store, QHR series displays help businesses move into the future of retail.
Safe operation, reliable performance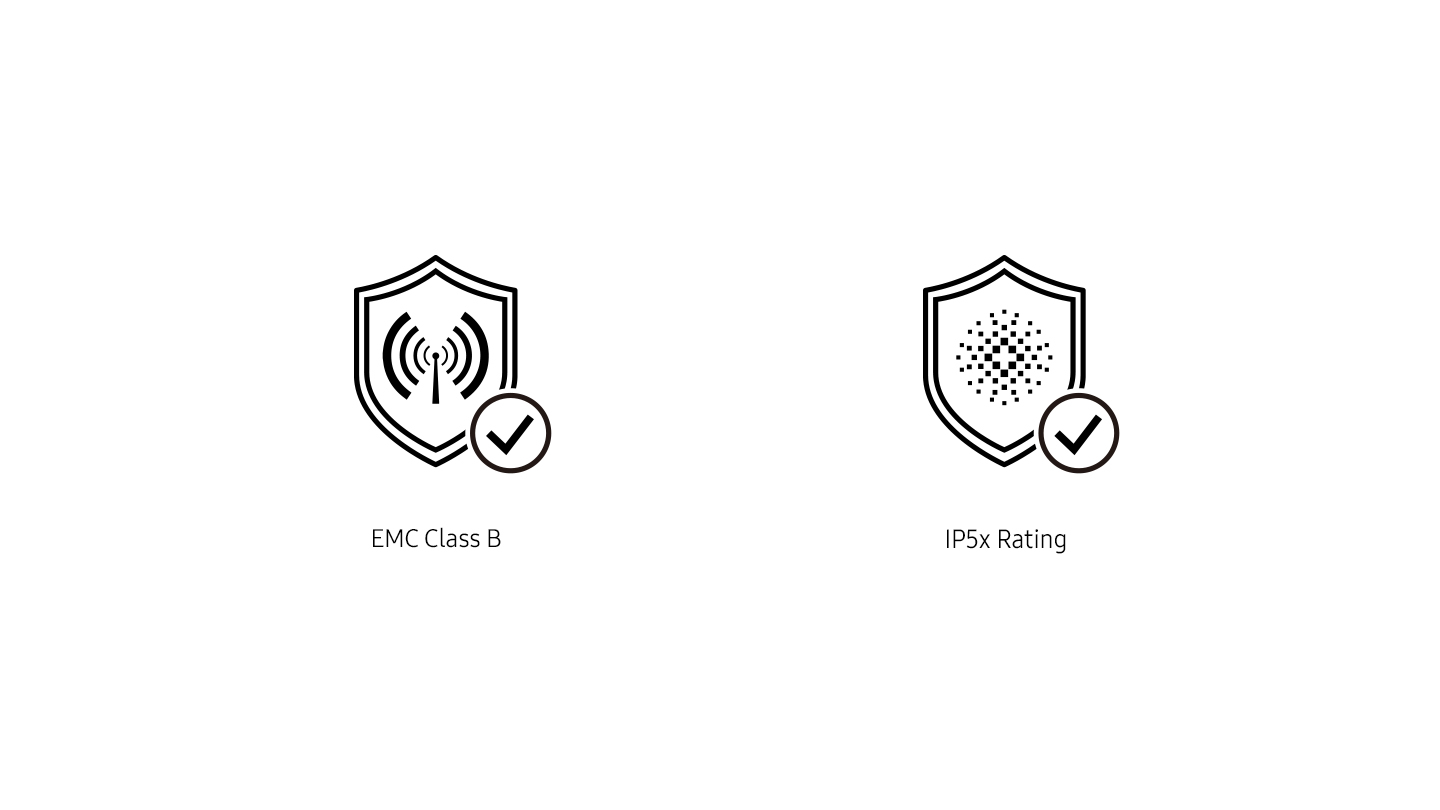 The QHR is electromagnetic compatibility (EMC) class B compliant, meeting strict safety and reliability standards for operation. Additionally, IP5x rating ensures durable performance even in dusty environments.
DominoDisplay vende prodotti Samsung che forniscono una soluzione integrata al problema della trasmissione di contenuti digitali sia in locale che in remoto.
I prodotti Samsung offrono, integrati nei monitor, un player chiamato "MagicInfo™" e una memoria interna che eliminano la necessità di acquistare e collegare ai monitor PC per la trasmissione dei contenuti digitali, rendendo anche meno costosa e complessa la realizzazione della comunicazione digitale
MagicInfo™ preinstallato sui monitor nella versione Lite, è un prodotto estremamente completo e di facile utilizzo che non richiede competenze specialistiche. E' sufficiente usare il telecomando incluso!
Di seguito puoi trovare un elenco delle funzionalità che MagicInfo™ offre per la trasmissione dei contenuti digitali:
Wi-Fi Direct, Screen Mirroring, DLNA: solo con Windows 8.1, processore IntelPro e scaricando l'applicazione Wireless Display dal sito www.intel.it
programmazione locale dei contenuti utilizzando la memoria interna
funzione "CLONA": potrai clonare su una chiave USB la programmazione che hai impostato su un monitor per trasferirla immediatamente anche agli altri monitor grazie alla funzionalità AutoPlay, senza bisogno di collegare i monitor alla rete aziendale (Nota: sulla chiave USB deve essere creata la cartella denominata "MagicInfoSlide")
trasmissione a schermo pieno dei contenuti
scelta tra 64 template (sia per trasmissione orizzontale che verticale) preinstallati per creare una comunicazione personalizzata
definizione della tempistica della campagna comunicativa e degli orari di accensione\spegnimento del monitor differenziata per fasce orarie e\o giorni
gestione combinata di più campagne comunicative
trasferimento dei contenuti sulla memoria interna del monitor (funzione antivandalica)
gestione dei videowall semplificata
possibilità di collegare e gestire i monitor da remoto collegandoli a una rete locale (vedi oltre)
gestione di tutte le funzionalità tramite telecomando incluso direttamente sul monitor
utenti profilati
trasmissione di template personalizzati caricati tramite chiave USB
ampia compatibilità con i formati video e audio, con il formato Flash, PDF e Microsoft Powerpoint


È possibile anche scaricare l'applicazione MagicInfo Express, su telefono (Android, IOS) o su computer, dai quali si può caricare contenuti multimediali o template personalizzati sui monitor. Questa applicazione funziona solo in locale e non da remoto.
Clicca qui per vedere tutte le soluzioni MagicInfo™ disponibili per i monitor Samsung SMART Signage.
SPECIFICHE
Display
Dimensione Diagonale
75"
Tipo pannello
Edge LED BLU
Risoluzione
3840x2160 (4K UHD)
Passo pixel (orizz. x vert.)
0.42975 x 0.42975
Dimensioni display attivo (orizz. x vert.)
1650.24 (H) x 928.26 (V)
Contrasto
4000:1
Angolo di visione (orizz./vert.)
178/178
Tempo di risposta
8ms (Typ)
Numero di colori
16.7M(reale 6 bit, dithering 8 bit) 1.07 B (Ditherd 10 bit)
Gamma colori
92% (DCI-P3, CIE 1976)
Frequenza H-Scanning
30 ~ 81kHZ
Frequenza Pixel Massima
594 MHz
Frequenza V-Scanning
30 ~ 81HZ
Luminosità
700 nit
Rapporto di contrasto dinamico
Mega
Connettività
Ingresso Video
HDMI 2.0 (2)
Ingresso HDCP
HDCP 2.2
RGB
DVI-D, Display Port 1.2 (1)
Audio
Stereo mini Jack, DVI, HDMI
USB
USB 2.0 x 2


Alimentazione

Alimentazione elettrica
AC100 - 240 V~ (+/- 10 %), 50/60 Hz
Type
Internal






Max [W/h]
314

Typical [W/h]
247


BTU (Max)


1070.7

Dimensioni
Dimensioni (LxAxP)
1681.1 x 960.1 x 49.7
Dimensioni Totali con imballaggio (LxAxP)
1871 x 1127 x 223
Peso
Peso dell'unità
38.3
Peso Totale con imballaggio
49
Specifiche Meccaniche
VESA Mount
400 x 400 mm
Larghezza Cornice
11.5mm(U/L/R) , 12.5 mm (B)


Condizioni di funzionamento
Temperatura
0 ℃ ~ 40 ℃
Umidità
10 % ~ 80 %


Caratteristiche generali

Special Features


H/W : Temperature Sensor,Pivot Display, Clock Battery(168hrs Clock Keeping),
Built in Speaker(10W 2ch), Video Wall Daisy Chain(HDCP2.2:4EA,HDCP1.4:7EA),
IP5x Rating, Wi-Fi/BT S/W: Auto Source Switching & Recovery, LFD Home UI,
Button Lock, Hot key option, Plug&Play (Initial Setting)
Key Features
UHD Signage Display Slim & Light Signage with Built-in MagicInfo S6, SSSP 6.0

Internal Player
Processor
Cortex A72 1.7GHz Quad-Core CPU
On-Chip Cache Memory
L1 Instruction Cache : 48KB L1 Data Cache : 32KB L2 Cache : 2MB
Clock Speed
1.7GHz
Main Memory Interface
2.5GB LPDDR4 1.5GHz 64bit
Graphics
3840x2160 (scala dal risultato dell'elaborazione grafica.
Storage (FDM)
8GB (3.88GB occupato da O / S, 4.12GB disponibile)
Multimedia
* Video Decoder : MPEG-1/2/4, H.263, H.264/AVC, UHD H.264/AVC, VC-1, AVS+, HEVC, JPEG, PNG, VP8, VP9 *Audio Decoder : AC3 (DD), MPEG
IO Ports
USB 2.0
Operating System
Tizen 4.0 (VDLinux)
Certificazione e conformità
EMC
Classe B
Sicurezza
60950-1
Accessori
Incluso
Quick Setup Guide, Warranty Card, Power Cord, Remote Controller, Batteries
Optional