Seamless video walls with razor-thin bezels With an exceptionally narrow bezel measuring just 0.44 mm and equipped with Samsung's advanced picture enhancement technology along with wide viewing angles, the VHR-R delivers an impactful and seamless experience. Its modern, slim design allows the display...
continua »
Codice Prodotto: DDW057
Disponibilità: Disponibile
Garanzia: 3 Anni
€9.829,54

€9.394,00

IVA INCLUSA

(€7.700,00

+IVA

)

Oppure da

€ 269.99

+iva per

36 mesi

con
Caratteristiche
Seamless video walls with razor-thin bezels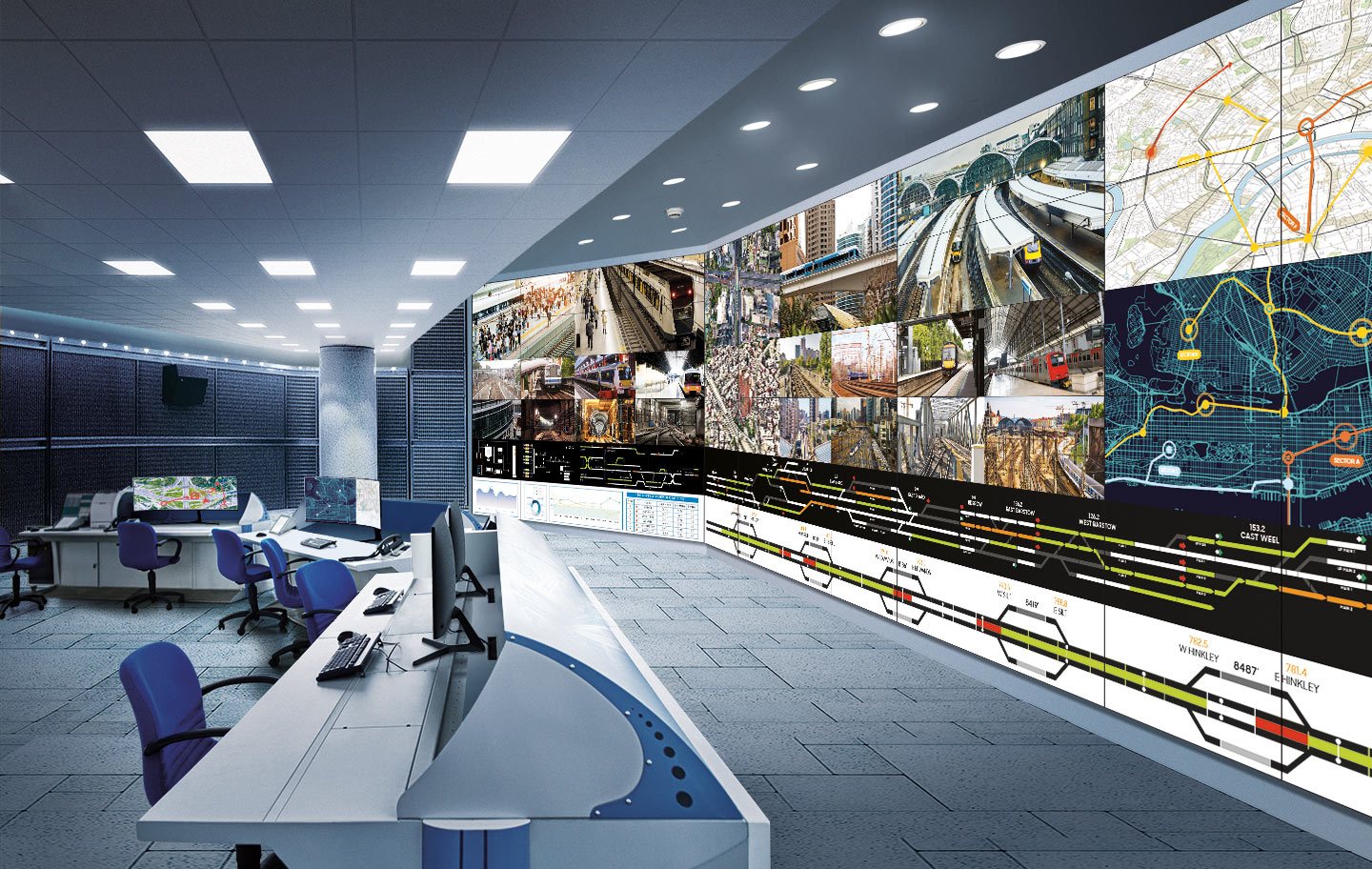 With an exceptionally narrow bezel measuring just 0.44 mm and equipped with Samsung's advanced picture enhancement technology along with wide viewing angles, the VHR-R delivers an impactful and seamless experience. Its modern, slim design allows the display to blend into any business environment.
Nearly invisible 0.44 mm bezel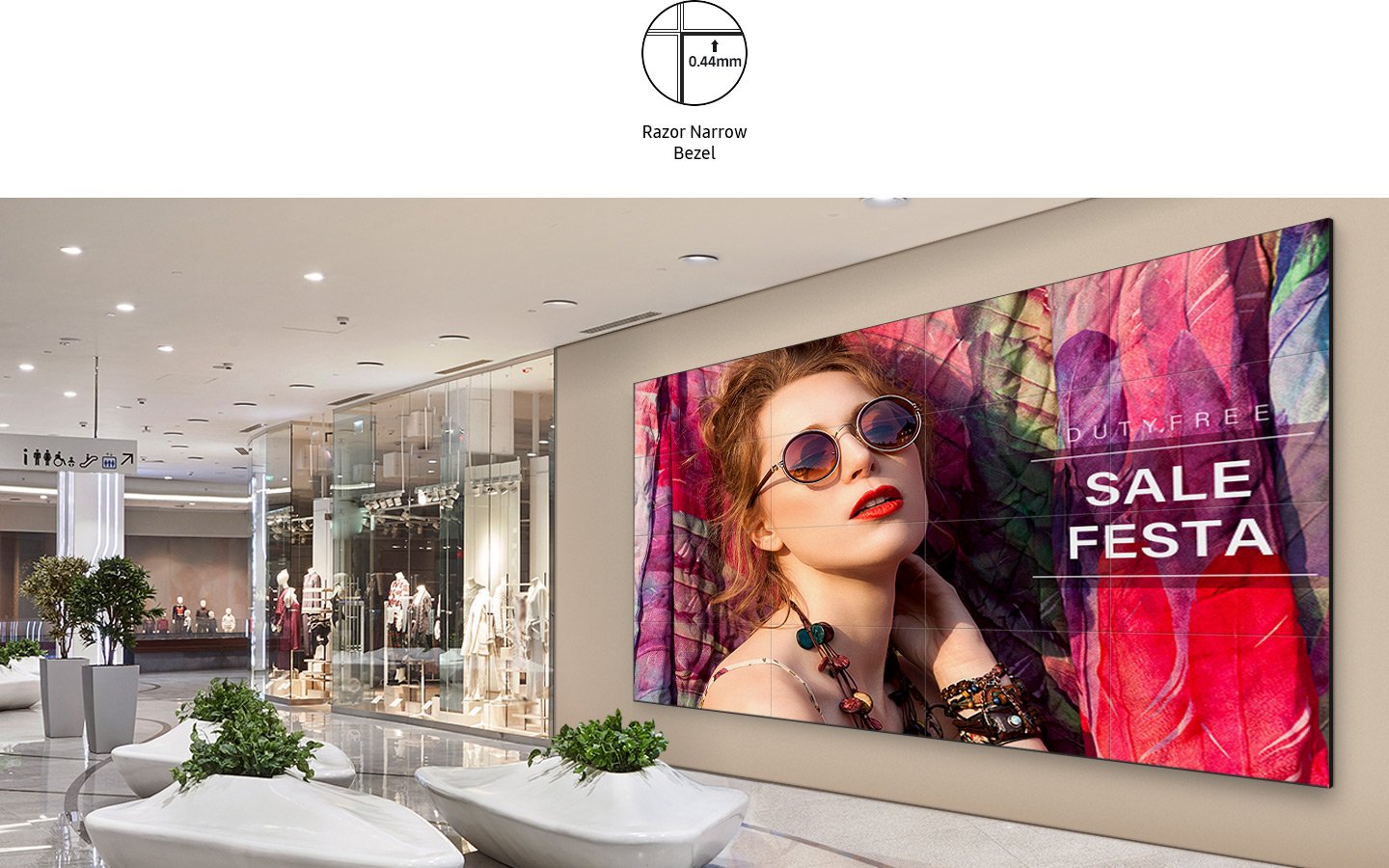 An Exceptionally thin 0.44mm even bezel — a 0.88 mm bezel-to-bezel depth — enables content to be delivered as one seamless image. Additionally, the display helps to eliminate any potential image distortion and provides a more immersive viewing experience.
View content from any angle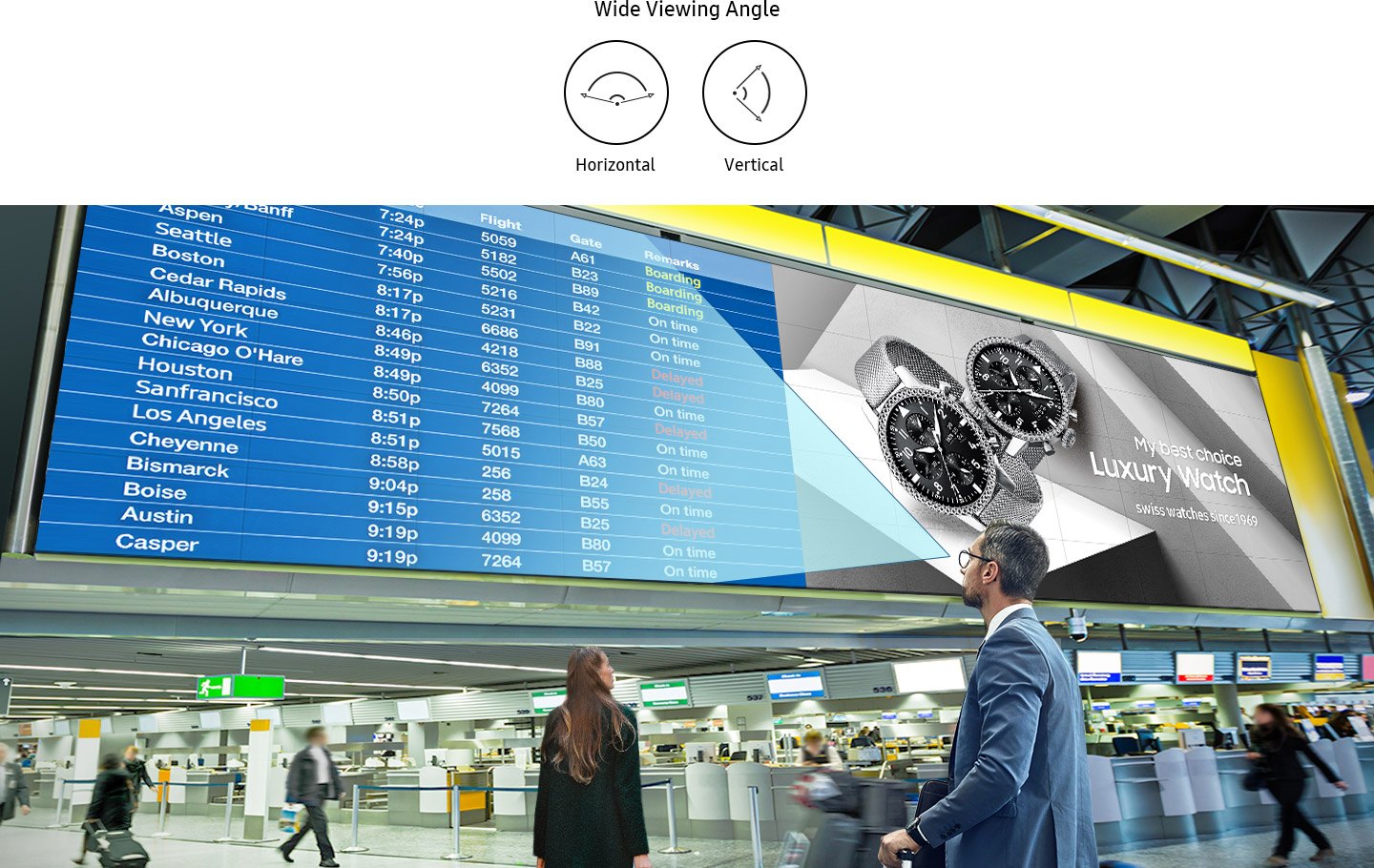 The display's wide viewing angles mean content is easily visible even if viewers aren't standing directly in front of the display. Audiences can get clear and accurate information regardless of video wall layout or location.
Image enhancement technology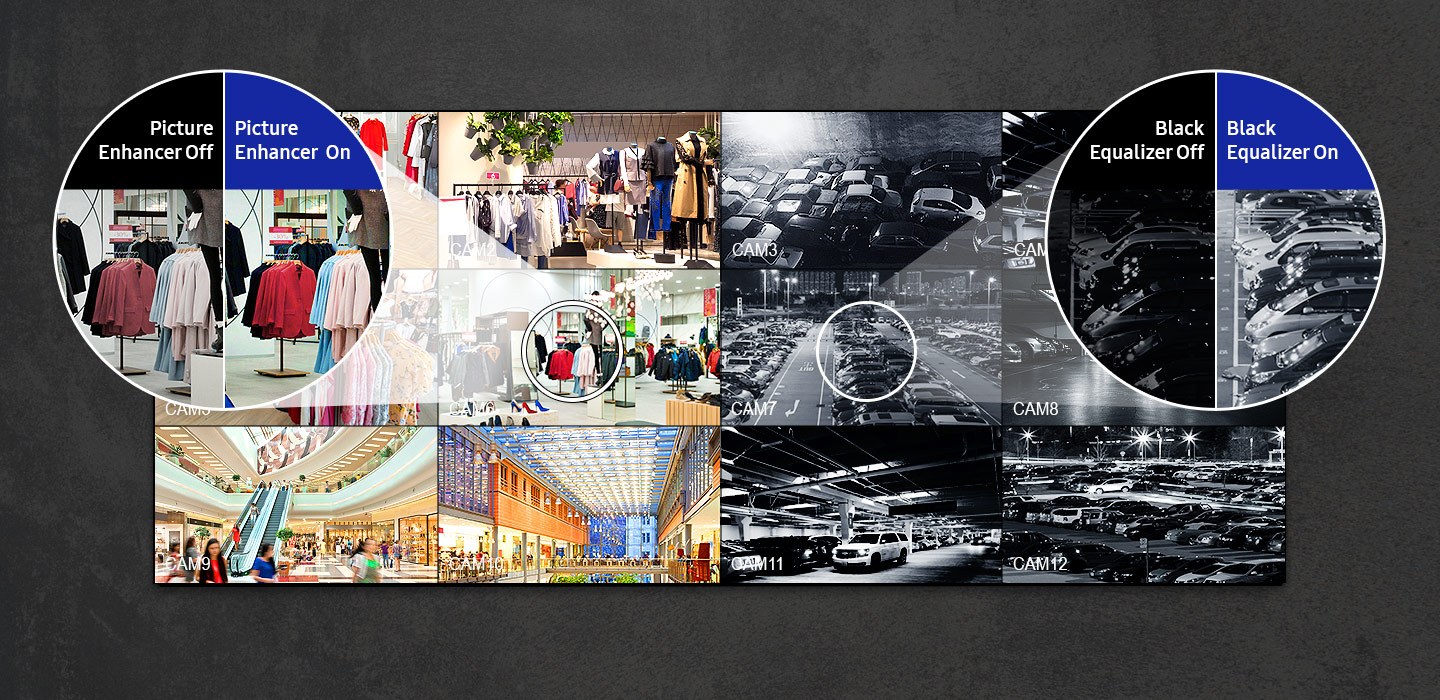 Modern, slim design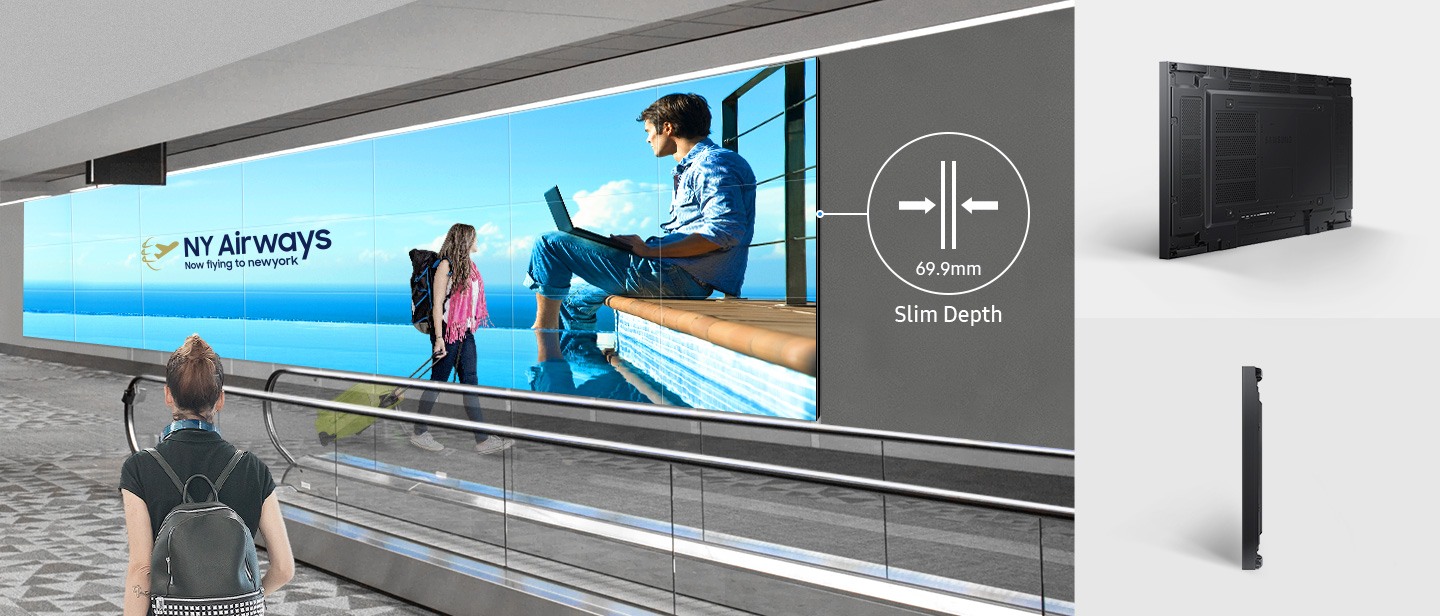 VHR-R displays feature an elevated design aesthetic with an ultra-slim depth of less than 70 mm. This allows the display to save space and create a clean, modern look for retail or other public spaces.
Vibrant images 24/7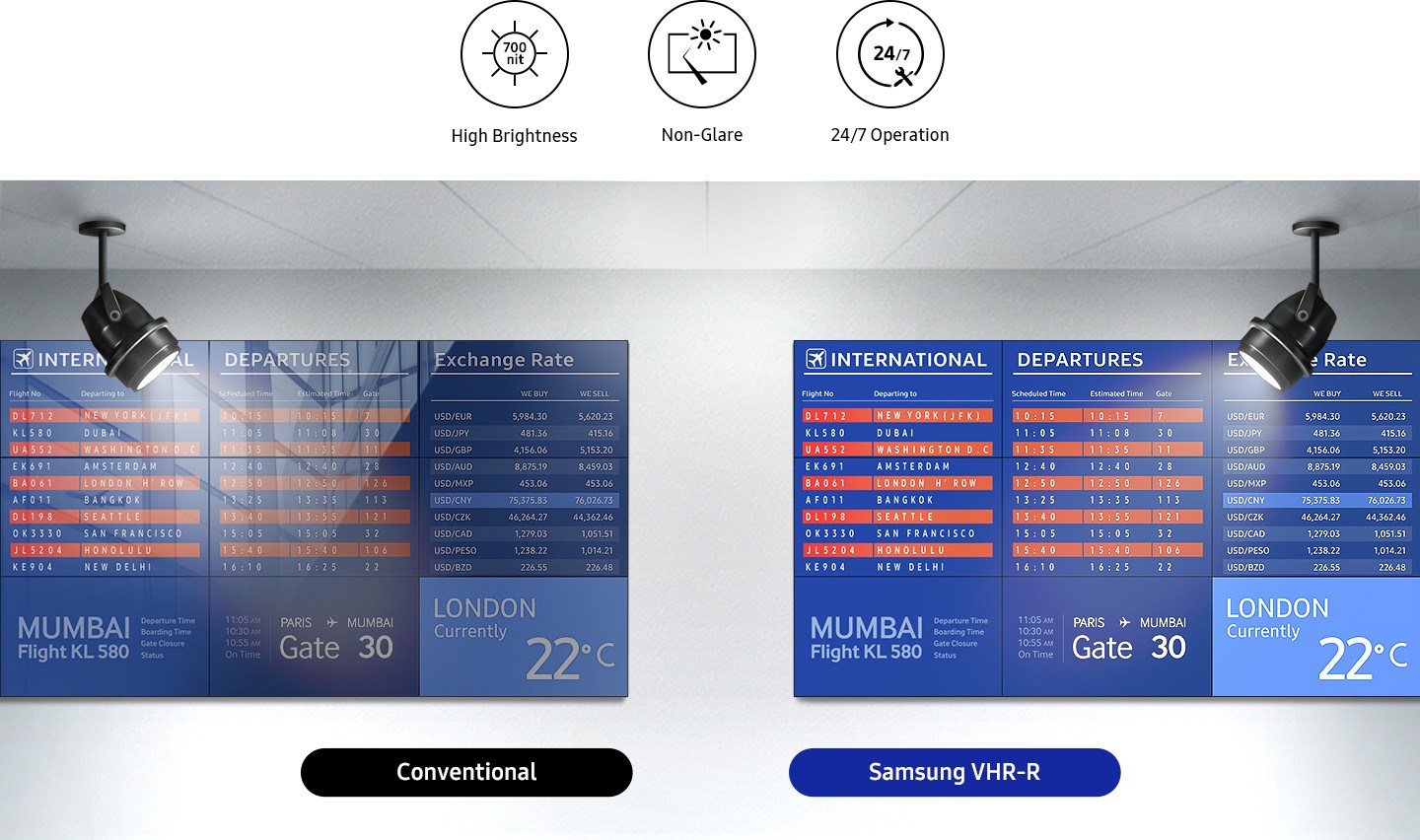 TExperience brilliant image presentation with an impressive 700 nit brightness allowing businesses to deliver clear information 24/7. The display's non-glare panels provide better visibility regardless of ambient light, ensuring critical information is always visible.
Convenient mobile calibration
Samsung's Color Expert Pro Mobile solution provides a quick and easy video wall calibration through a mobile camera. With the solution's intuitive UI, even non-expert users can adjust up to 5x5 video wall's white balance simultaneously without the need for additional equipment.*Samsung Color Export Pro Mobile is only available on certain smartphone models.
Comprehensive calibration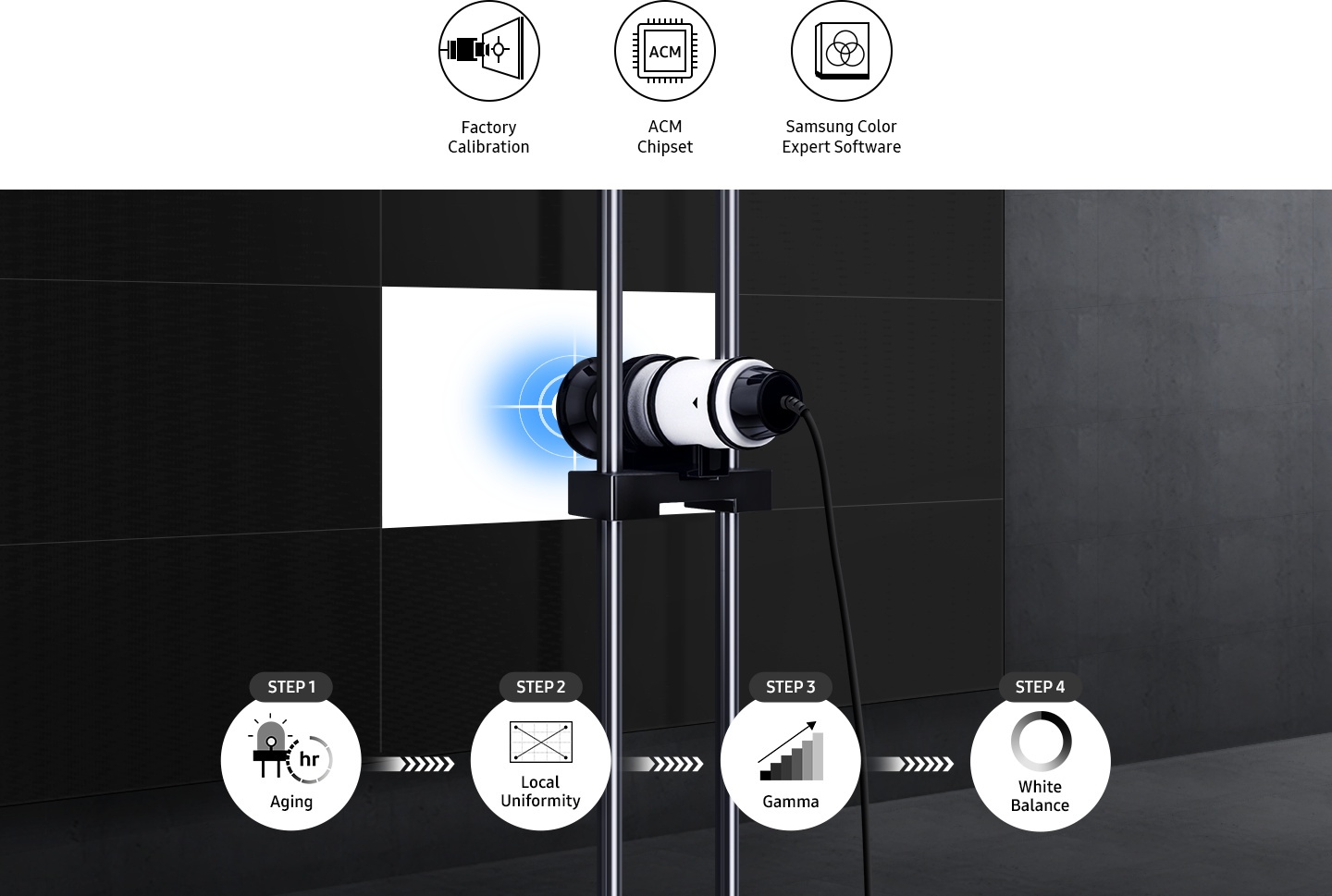 Samsung's multi-step factory calibration process tunes video walls to uniform brightness and color throughout multiple displays. In addition to rigorous factory calibration, users can also manage brightness and color uniformity with Samsung's Color Expert Pro, a powerful free software program.
Advanced UHD presentation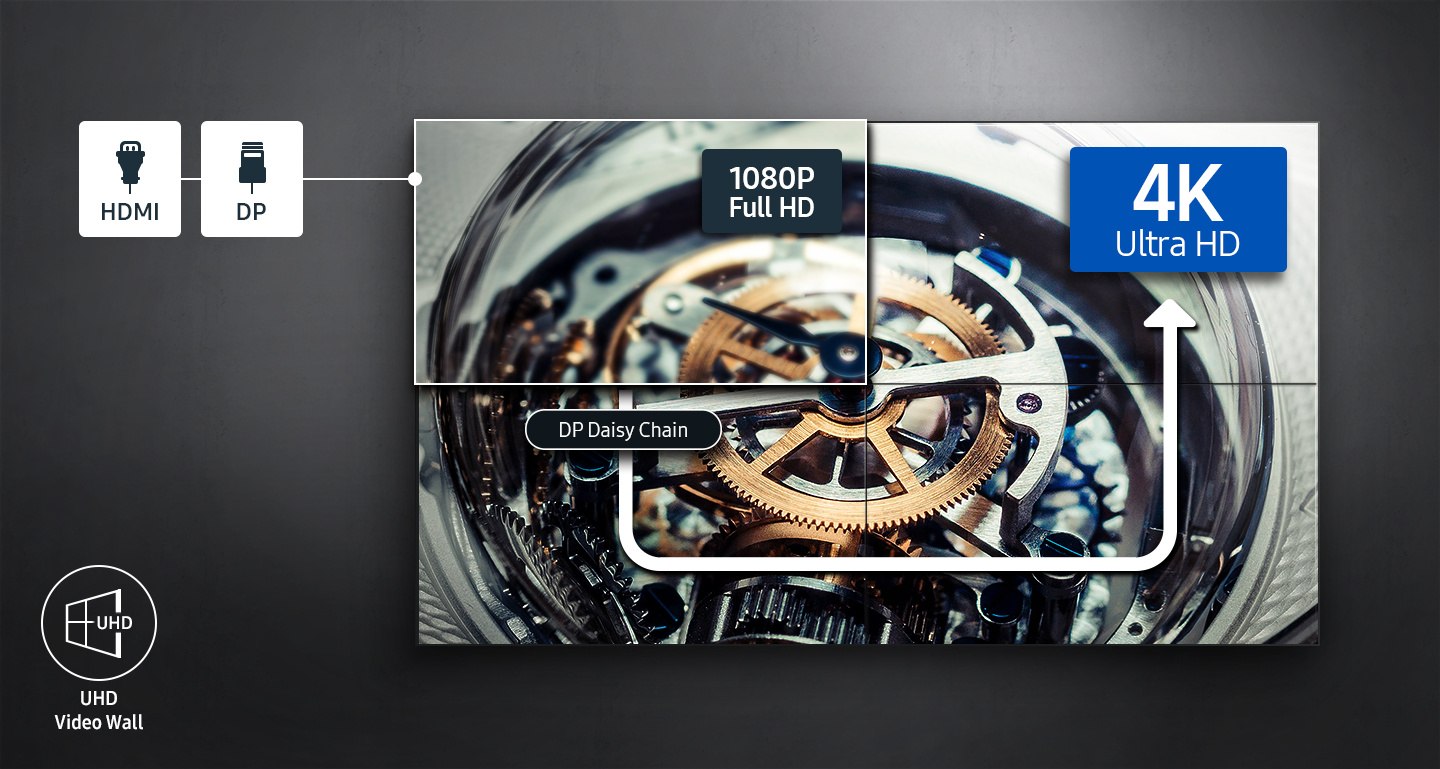 Samsung video walls provide an impressive UHD viewing experience with minimal effort. With daisy chain design utilizing DisplayPort 1.2 and HDMI ports, the VHR-R display can project UHD content across multiple screens up — to 5 x 5 — without requiring an external graphic card or UHD splitters.
Industry standard certified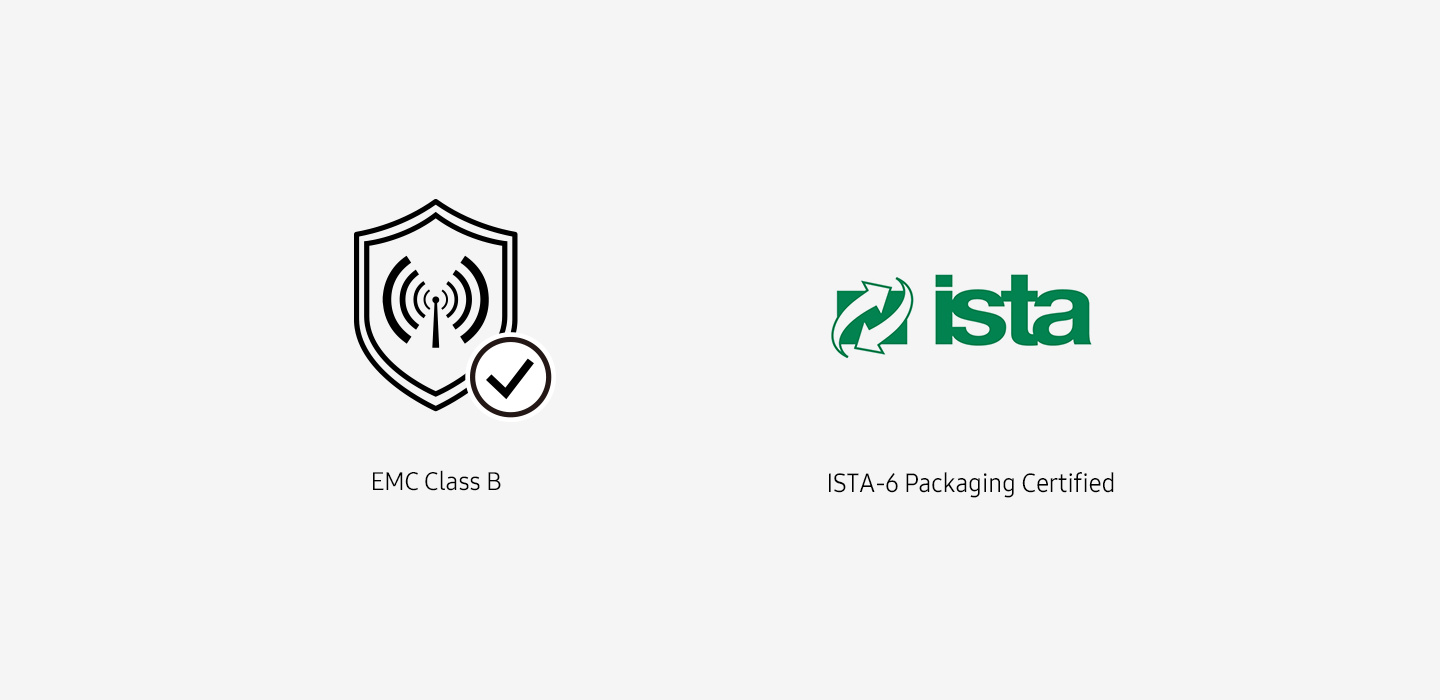 The VHR-R series is EMC class B compliant, ensuring a safe viewing environment by meeting strict standards of electromagnetic wave emission. The display packaging also passed a rigorous 4-step test in an ISTA-certified laboratory designed minimizes possible damage during delivery.
Intuitive all-in-one operations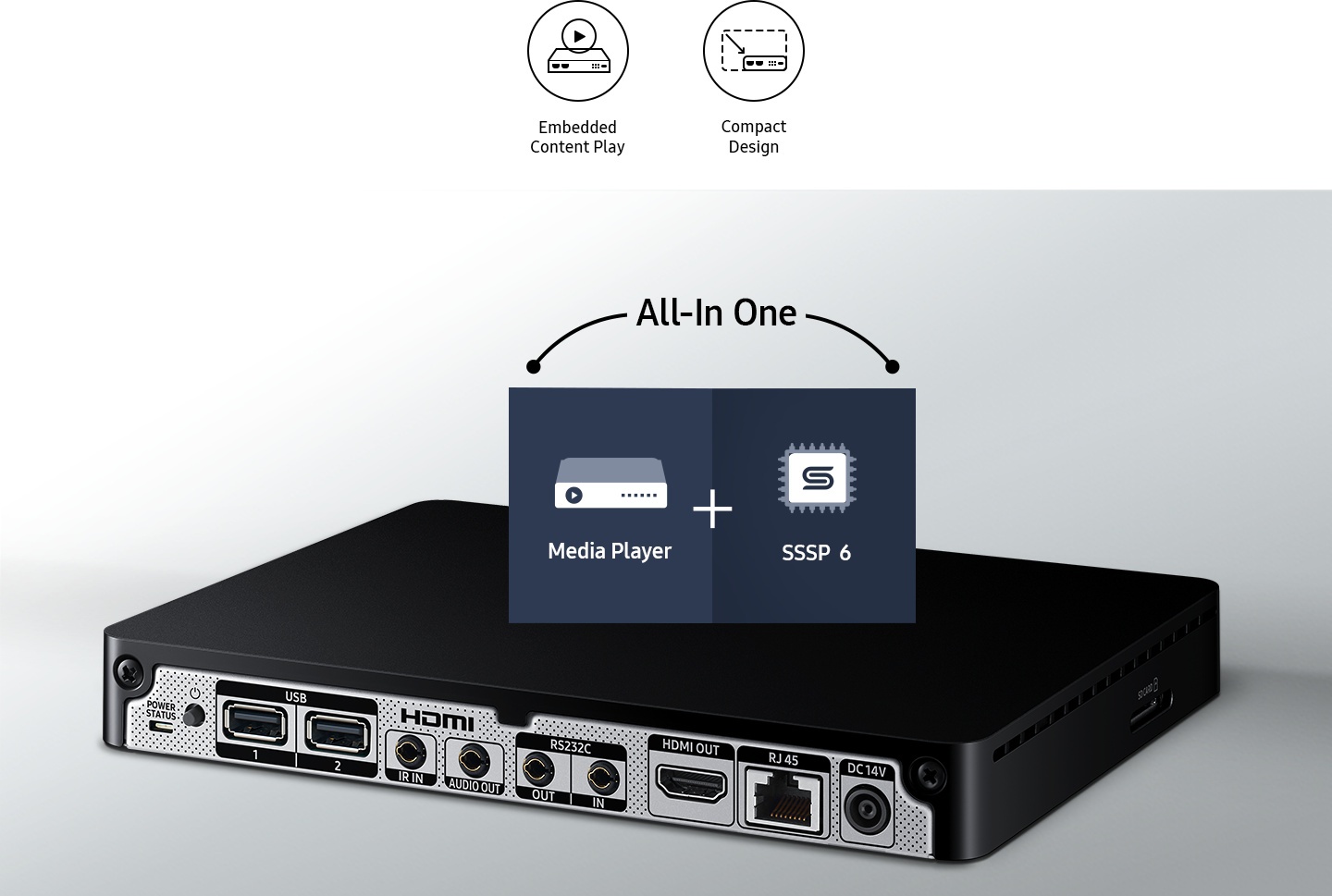 TThe UHD Signage Player Box combines information processing and content management tools into a single platform, for added operational simplicity. Weighing just 0.6 kg, even with embedded MagicINFO S Player 6 and SSSP 6, the compact design of the box makes it an ideal solution.
DominoDisplay vende prodotti Samsung che forniscono una soluzione integrata al problema della trasmissione di contenuti digitali sia in locale che in remoto.
I prodotti Samsung offrono, integrati nei monitor, un player chiamato "MagicInfo™" e una memoria interna che eliminano la necessità di acquistare e collegare ai monitor PC per la trasmissione dei contenuti digitali, rendendo anche meno costosa e complessa la realizzazione della comunicazione digitale
MagicInfo™ preinstallato sui monitor nella versione Lite, è un prodotto estremamente completo e di facile utilizzo che non richiede competenze specialistiche. E' sufficiente usare il telecomando incluso!
Di seguito puoi trovare un elenco delle funzionalità che MagicInfo™ offre per la trasmissione dei contenuti digitali:
Wi-Fi Direct, Screen Mirroring, DLNA: solo con Windows 8.1, processore IntelPro e scaricando l'applicazione Wireless Display dal sito www.intel.it
programmazione locale dei contenuti utilizzando la memoria interna
funzione "CLONA": potrai clonare su una chiave USB la programmazione che hai impostato su un monitor per trasferirla immediatamente anche agli altri monitor grazie alla funzionalità AutoPlay, senza bisogno di collegare i monitor alla rete aziendale (Nota: sulla chiave USB deve essere creata la cartella denominata "MagicInfoSlide")
trasmissione a schermo pieno dei contenuti
scelta tra 64 template (sia per trasmissione orizzontale che verticale) preinstallati per creare una comunicazione personalizzata
definizione della tempistica della campagna comunicativa e degli orari di accensione\spegnimento del monitor differenziata per fasce orarie e\o giorni
gestione combinata di più campagne comunicative
trasferimento dei contenuti sulla memoria interna del monitor (funzione antivandalica)
gestione dei videowall semplificata
possibilità di collegare e gestire i monitor da remoto collegandoli a una rete locale (vedi oltre)
gestione di tutte le funzionalità tramite telecomando incluso direttamente sul monitor
utenti profilati
trasmissione di template personalizzati caricati tramite chiave USB
ampia compatibilità con i formati video e audio, con il formato Flash, PDF e Microsoft Powerpoint


È possibile anche scaricare l'applicazione MagicInfo Express, su telefono (Android, IOS) o su computer, dai quali si può caricare contenuti multimediali o template personalizzati sui monitor. Questa applicazione funziona solo in locale e non da remoto.
Clicca qui per vedere tutte le soluzioni MagicInfo™ disponibili per i monitor Samsung SMART Signage.
SPECIFICHE
Videowall
Tipo schermo
2 monitor 55" Samsung VHR
Ingombro totale
242 x 68 x 7 cm
Peso totale
34 Kg
Luminosità \ candelaggio
Max 700 CD\m2
Risoluzione
Full HD (1920x1080) 16:9
Consegnato installato
NO
Player integrato
NO
SBB (modulo pc)
Opzionale
Touchscreen
NO
Scheda tecnica
Visualizza
Disegno Tecnico
Visualizza
Optional